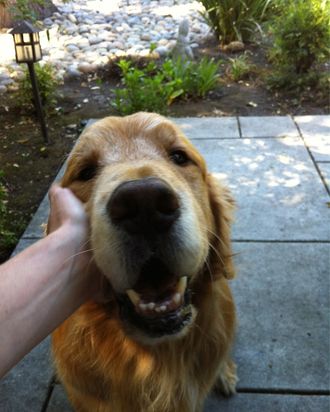 R.I.P., Bea.
Photo: MaggieRizer/Twitter
Bea, the adorable 2-year-old Golden Retriever that belonged to model Maggie Rizer and inspired her blog, "Bea Makes Three," died during a cross-country flight on United Airlines two weeks ago. According to an autopsy, her death was caused by heatstroke. From Rizer's blog:
Beatrice had a perfect health record. She received a full examination and a health certificate four days before the flight, as is required by the Pet Safe program. This program is United's branded on-board pet safety program. In addition to Pet Safe's stringent requirements, we took every extra precaution we could think of.  Both the dog's kennels were labeled front to back with emergency numbers, flight information and warnings.  Their kennels were purchased specifically for the measurements and design specified by Pet Safe.  We purchased special water bowls which we filled with ice to ensure that the water wouldn't spill and that it would last longer. We drove the six hours to New York City from our house in Northern New York State, so the dogs wouldn't have to make a connecting flight.  We paid United Airlines $1800.00, in addition to our plane tickets, to ensure the safety of our pets. 
United Airlines has not yet released a public statement on the matter; meanwhile, Rizer says she will no longer continue her blog.