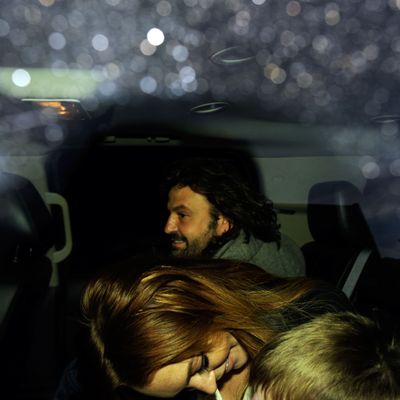 Photo: Daniel Shapiro / Splash News
Coyly featured in the background of many of her post-car-crash paparazzi photo sets, Lindsay Lohan's latest BFF/maybe-BF is Spanish artist Domingo Zapata. (He's no pirate, but he'll do for now.) When Lindsay tweeted that she loved his paintings, Zapata returned the favor by noting he loves everything she's ever done — even I Know Who Killed Me. That's a sign of true friendship, a friendship that seems to date to February of this year, when Zapata took some Polaroids of Lindsay, then doodled some pseudo-Biblical quotes on them and sold the resulting collage to some crazy British collector for $100,000.
When he's not hanging with Linds and his kids, Zapata apparently splits his time between studios in New York, Los Angeles, and Paris; Wikipedia explains his work as reflecting "themes of sexuality, opulence, and joie de vivre explored through the representation of horses, actresses, circus performers, bullfights, and flamenco dancers," which sounds nice. Here are lots of other interesting things you should know about him, in no particular order:
• He pronounces his last name with a soft z so it sounds like a lispy "Ssschapata." Very Mediterranean.
• He enjoyed Magic Mike.
• Some of his favorite things to paint are horses, rhinos, and plane crashes.

• His close friends include Real Housewives of Miami stars Lea Black and Karent Sierra. (Ramona Singer also tweeted him once back in 2011, but she might just have been on a Pinot binge.) He bought the Porsche Lindsay allegedly crashed from Sierra, who may actually be liable for damages because she'd not yet filed the car's change in registration forms at the time of the kerfuffle.

• He practices bull fighting. 

• George Soros bought one of his polo-themed paintings in 2005. Johnny Depp once bought a painting, too. 

• Tara Reid attended an exhibition of his work at Mr. C in Beverly Hills this February — around the time he's believed to have first met Lindsay. "Life is good," she told reporters, then wandered off aimlessly and probably fell into some shrubbery. 
• He has children and is comfortable letting Lindsay carry them.

• Sometimes he wears dungarees.

• He co-wrote a Spanish-language song for Michael Jackson, who "wanted to do something for his Spanish speaking audience whom he loved very much." But then Michael died.

• He wrote some lyrics for a 2009 version of Los Del Rio's classic "Macarena." Please imagine him and Lindsay doing the dance together.

• Following the success of his Polaroid piece featuring Lindsay, he made a similar work about Kim Kardashian. Instead of the Bible, hers quoted Maya Angelou.

• He once painted Sofia Vergara at a party. Literally, he used her as a canvas.

• Someone recently vandalized one of Zapata's paintings at the Dream Downtown Hotel, the very location where Lindsay maybe-crashed his car. Start a countdown until Lindsay puts the pieces of this malevolent jigsaw together and finds  the true culprit — who may or may not be Amanda Bynes.