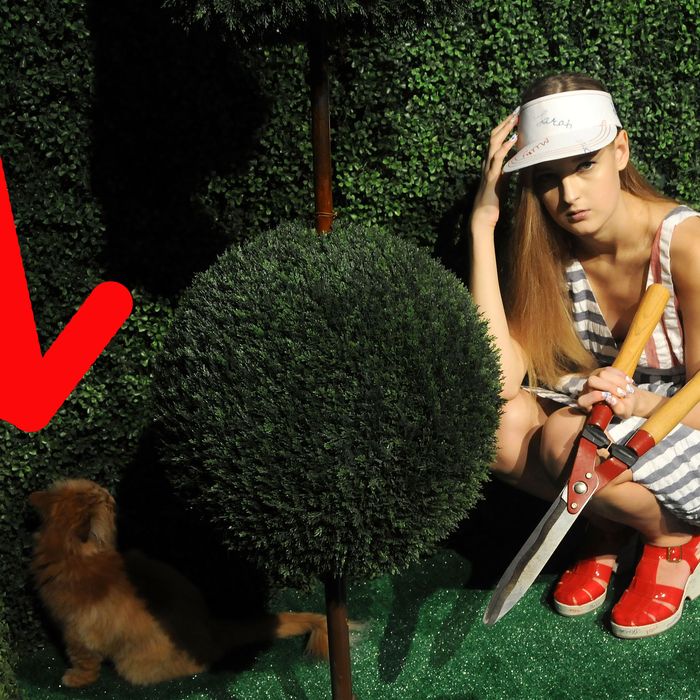 Photo: Desiree Navarro/2012 Getty Images
Those who weren't busy ogling Lena Dunham's new haircut at Rachel Antonoff's presentation on Saturday might have noticed a large, adorable ball of orange fur crouching behind one of the topiary props. This enviable pelt was attached to a real live cat, Lyle, who belongs to Audrey Gelman (also known as Manhattan Borough President Scott Stringer's press secretary, Lena Dunham's best friend, and Charlie's rebound girlfriend on Girls). A 4-year-old Persian mix, Lyle's talents were recruited when the cat who normally works with Antonoff was "otherwise occupied" this season, Gelman explained.
She kindly recounted the full story of Lyle's fashion experience via e-mail:
To prepare for the presentation, Lyle ran around in circles for a few days for extra cardio, and ate plenty of Wellness CORE food. She got a shampoo and a nail trim at our favorite pet store.

We took a cab to the presentation. She was placed in a tableau with picnic basket and a model holding shear-cutters who appeared to be trimming a hedge. At first she seemed curious, but when the cameras began to flash and the crowd swelled, she began searching for hiding places. The models helped by petting her and giving her attention. All in all, she lasted about an hour, but fashion week seemed to be a little too much for Lyle. When I saw she was panting, my mom and me whisked her away and took her home to sleep.

She's been taking a lot of naps since we got back, staring at her favorite tree in the backyard, and catching up on Sons of Anarchy with me. I think she prefers the simple life, and I sympathize!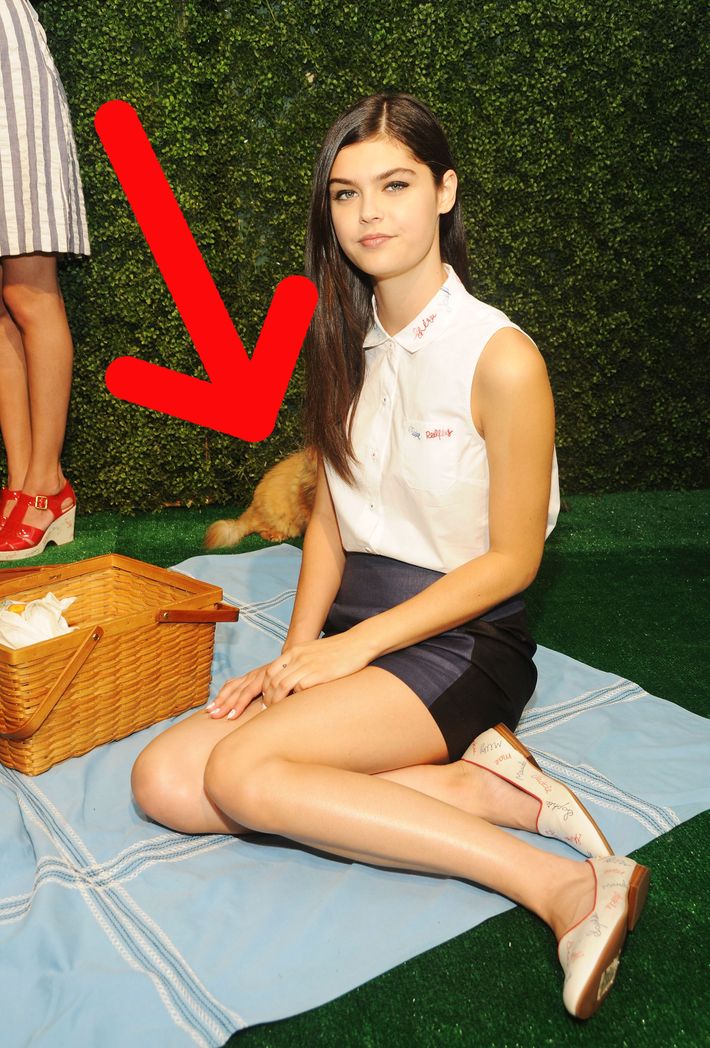 Gelman added that Lyle's foray into modeling was probably a onetime deal, which is completely understandable. Fashion Week is not a friendly place for those who prefer sleeping to clothes.