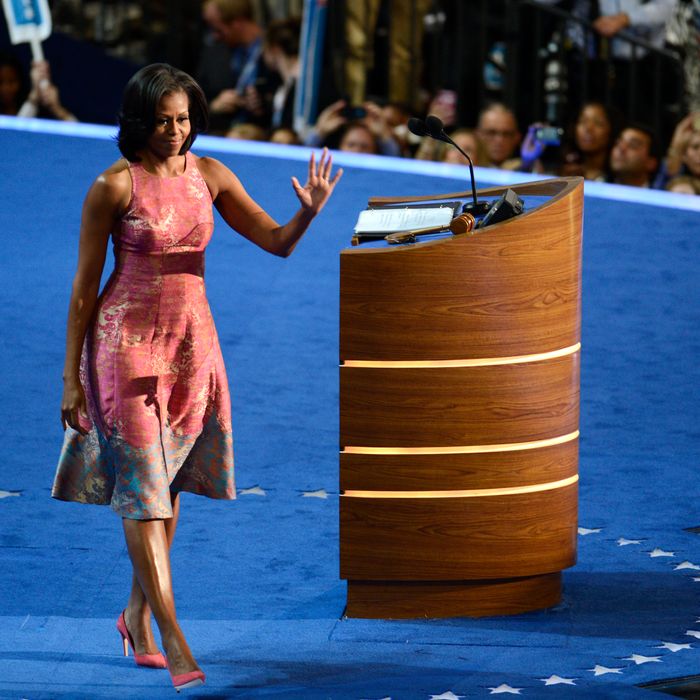 Photo: Adam Jennings/2012 MCT
Much ado has been made about Michelle Obama's fiery "mom-in-chief" speech last night, but let's not overlook her sleeveless Tracy Reese dress, worn with these matching pink pumps from J.Crew. Some observations …
The designer: Reese is a relatively young designer who was inducted into the CFDA just two years ago; whether it's relevant that she's one of the few well-established African-American fashion designers working today is up for debate, but she's been a longtime favorite of the first lady's.
The color: The pink bordered on bubblegum territory. But instead of resembling Ann Romney's candy-striper number at the RNC last week, Michelle's dress was made from thick brocade fabric with silver embroidery, giving it a modern sheen. Michelle wears this shade relatively often, but it's interesting that she chose such a feminine color on a night when she was standing up on her husband's behalf.
The fit: The impeccable tailoring through the bust and bodice was flattering, snug, and even sexy. This was a far more stylish and, dare we say, cute silhouette than Ann (or Janna Ryan, for that matter) would ever wear.
The sleeves: There were none, in keeping with one of Michelle's "right to bare arms." (Ann Romney would never.)
The pattern: Florals can be chancy on television, since they can look busy and matronly. It was a brave choice on her part, but since the rose pattern  was spaced out, it wasn't distracting at all. The bluish-silver border at the bottom hem anchored the look as well, adding some gravity to the pink.
Overall, this was a ballsy dress, but one that's firmly in line with her FLOTUS aesthetic.