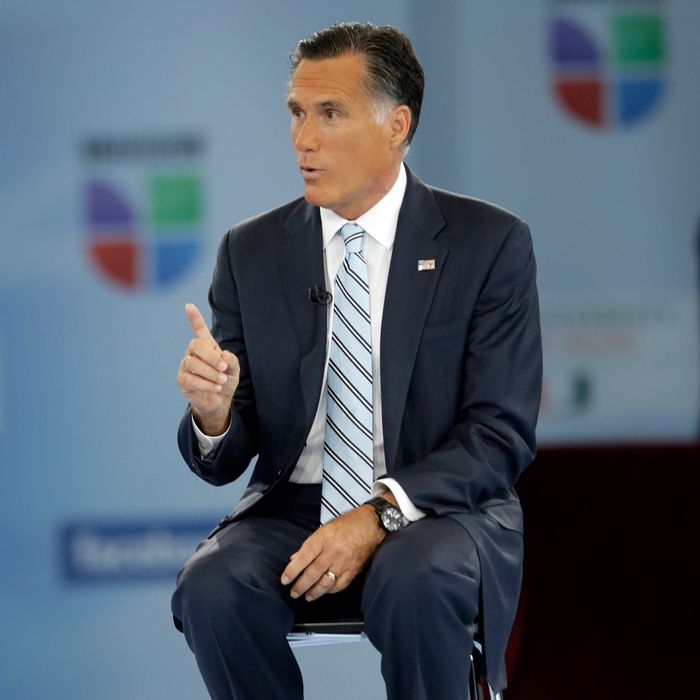 Mitt Romney's appearance on Spanish-language news channel Univision yesterday demonstrated a peril of modern politics as old as televised campaigns: men's makeup. Ever since Richard Nixon refused professional makeup in favor of drugstore stubble-coverup for the first-ever televised debate against the youthfully radiant John F. Kennedy in 1960 — a choice many say cost him the debate — male politicians have been forced to perform a cosmetic balancing act traditionally reserved for women and actors. Underdo it, and risk subconsciously turning off voters with the pallor, dark under-eye circles, and beads of sweat drawn out by hot on-set lights. But go a shade too dark and risk losing the day's narrative to blog posts like "Mitt Dons Brownface For Forum with Mexicans."
"Mitt's Mexican tan?" asked makeup artist Michele Probst when reached by phone yesterday. "That was very curious." 
A men's cosmetics expert who's powdered the noses of former Vice-President Al Gore ("a gorgeous man but he had eyebrow issues") and President Barack Obama ("basically just taking out the excess oil") during previous presidential campaigns, Probst noted that makeup artists are the lowest of the low on the totem of campaign image management.
"To me, that had to have been someone's idea," she said. "Someone said, 'Let's try to relate to people.'"
But according to the makeup artist who did Romney's face for a winter primary race rally in Tampa, the string-pullers in the Romney camp were after an understated look, at least as of then.
"His assistant said, 'Please don't put a lot of makeup on, he wants to be natural," recalled celebrity makeup artist and Beauty Blueprint author Michelle Phillips, who also served as head of makeup at this year's Republican National Convention (though by then Romney and his wife were traveling with their own makeup person).
And besides: Isn't the tee-totaling Mormon awfully well-preserved?
"He really didn't need much," Phillips confirmed. "All I did with him was give him his powder and just a little bit of concealer under his eyes."
Even though makeup is compulsory for national television appearances, any sign of having one's makeup done — the white seam along Romney's neck, say — can be a jarring reminder of the vanity and artifice of politics. In 2008, John McCain's salty maverick image suffered for news reports that his camp was paying Tifanie White, best known for her work on So You Think You Can Dance, more than $5,000 a month to do his visage. It's simply not presidential.
"The point of cosmetics is not to be seen," said Probst. Frustrated with theater makeup that read as cartoonish in unforgiving pixels of high def, Probst designed a line of anti-shine powder for her men's skin-care company, Menaji. Phillips sends her male clients off with a makeup remover wipe in their pockets for the moment they walk off stage or set. Both agreed that there's little hope of recovery for a man whose face and hands are two different colors.
"Consistency is trustworthy," Probst explained. "If he looks different in a different market, that scares me." 
"Too much makeup takes away from his credibility," said Phillips. "No one's listening to what he's saying. Instead they're asking, 'What's going on in this photo?'" (What did Romney talk about on Univision?)
It's a lesson Phillips learned firsthand. At the RNC, she had the unpleasant experience of watching Condoleezza Rice open her mouth to reveal the Chanel red lipstick Phillips had applied minutes prior smeared across her front tooth.
"Yes, it was my worst nightmare."
The former Secretary of State's rousing speech distracted even the tweeting class from the beauty blunder, a rare instance of physical vulnerability that was relatable and humanizing. But moments of bodily realness are par for the course of serving as a candidate's makeup artist, a job that, though lowly, is undeniably intimate. 
"If they have a booger, that's your job and trust me, you have to deal with it," said Probst, who traveled with Obama during the 2008 campaign. "These are the things you have to think about. It takes a lot of work to look natural when you're under the eyeballs of the world."