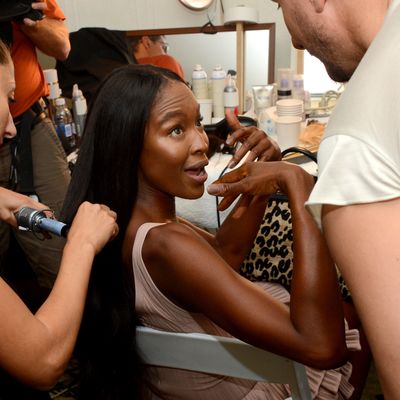 Photo: Jason Kempin/Getty Images
Perhaps picking up on the model's aura (or overhearing that Naomi's tardiness postponed the show's start by 40 minutes) … or finding herself frustrated after fire marshals pulled 60 seats from the Avery Fisher Hall space — leaving her mom, Marie-José Susskind-Jalou, president of Jalou publishing house, without one — Jalouse's Jennifer Eymere felt it was only reasonable to smack HL Group co-founder Lynn Tesoro, responsible for the event's PR. From WWD:
She claimed Tesoro was being inappropriate to her mother, saying that she first had to seat other people. "I said, 'Don't speak to my mom like this. You have to stop to speak like that.' I said, 'Be careful, I am going to slap you,' and she kept doing it, and it just happened.

"I am sorry, I know it's bad to do that," she added. "It was a small slap. It was not strong. I didn't hurt her, it was just to humiliate her. She humiliated my mom, and I humiliated her in front of her crew. Voilà. I just said at the end, 'Now you know you don't f–k with French people.'"
Then, we're guessing Eymere, probably clad in a Chloë Sevigny for Opening Ceremony dress and Chanel brogues, carrying an Olympia Le-Tan clutch, continued to double-cheek kiss passersby until the lights lowered. Quelle gansta!