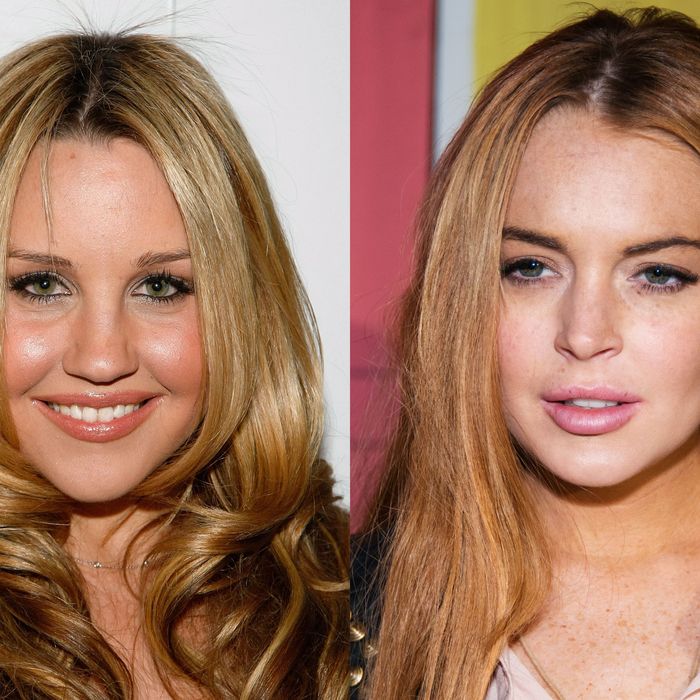 For the second time in Lindsay Lohan's career, one might say she's the redheaded Amanda Bynes. Lohan took to Twitter last night to gripe about her possibly even more troubled fellow former child star's soft treatment by police, chalking the difference up to anti-Disney sentiment harbored by Nickelodeon supremacists.
"Why did I get put in jail and a nickelodeon star has had NO punishment(s) so far?" she asked, adding: "These are the moments that I appreciate my life experiences, living without regrets and Disney for supporting me as an actress."
Contrary to Lohan's take, it would seem likely Bynes has some punishment(s) coming her way. According to E!, Bynes was issued a citation for driving with a suspended license last night and had her car impounded. She has a hearing scheduled for Friday to reevaluate the conditions of her bail while she awaits trial for her April DUI charge. She also faces charges for two misdemeanor hit and runs, which each carry a maximum sentence of six months in jail.
One more thing the former child stars have in common: Twitter pleas to Barack Obama.
Bynes used the social-media platform to request a presidential pardon.
"Hey @BarackObama…I don't drink," Bynes wrote, "Please fire the cop who arrested me. I also don't hit and run. The end."
Lohan used it to advocate for tax reform.
After Obama's camp tweeted that he had "cut taxes for those who need it: middle-class families, small business,"  Lohan replied, "@BarackObama we also need to cut them for those that are listed on Forbes as 'millionaires' if they are not, you must consider that as well."
Whomever could the Liz and Dick star have been referring to?