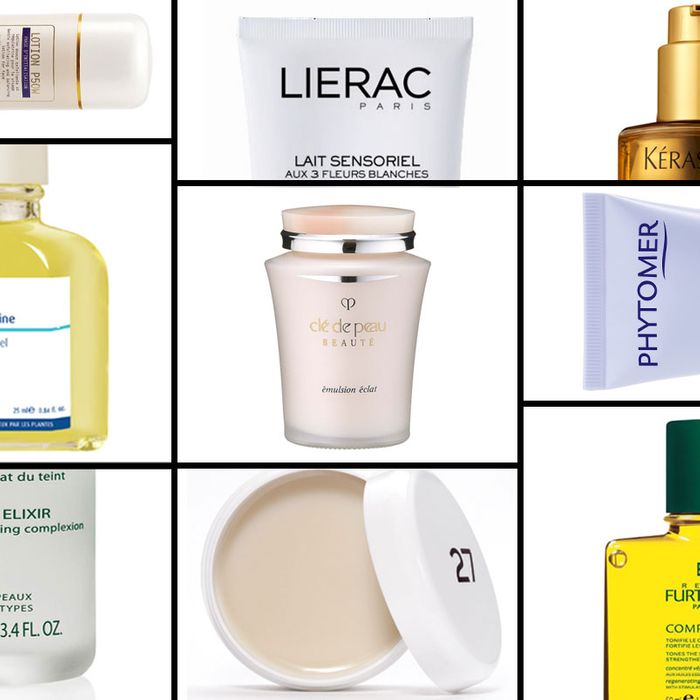 The fashion collective might be in Paris to do that whole runway watching thing, but we all know what they're actually there for: to single-handedly wipe out French pharmacies of their goods. The first to sell out will be makeup artist and model favorites like Embryolisse face cream and Bioderma Crealine cleansing water, both of which are virtually impossible to find stateside. However, don't be discouraged; you too can look as ageless and radiant as the chicest Parisian: A slew of great French products are readily available in the U.S. of A. It's possible you've even encountered these items in your drugstore but have never been able to get past the oblique frenchified product descriptions. Today we've done the work of figuring out what they actually do for you so you can go home and apply them while you look at our runway galleries. You'll feel just like you work at Vogue Paris.
1. Rene Furterer Complexe 5 ($45, Rene Furterer)
While the description directly says it cleans and tones scalps, it's not actually a shampoo. Use as a pre-wash on dry hair and let sit for a few minutes to let the antiseptic formula absorb into skin. Then rinse and shampoo for healthier heads.
2. Phytomer Purifying Gommage Exfoliant ($37, Le Spa)
"Gommage" might be the french word for erase, but it sounds exactly like the way it actually feels, kinda gummy. And while "exfoliate" sounds like it should be a quick face scrub, its application is more like a mask (apply, dry, wash off) that won't irritate skin.
3. Phyto Hair Phytopolléine Universal Elixir ($32, Phyto)
This is the French counterpart to using a clarifying shampoo, except this adorable bottle comes with a dropper for targeted application into the scalp. Also, it has no relation to the other French brand, Phytomer.
4. M.E. SkinLab Cleanser 27 ($85, Woodley & Bunny)
Face wash in a tub sounds like the most cumbersome addition to a nighttime ritual we already don't want to do, but this cleansing balm is worth the effort. It forces you to massage your own face (which is better than no massage at all) with its cleansing powers that will take off the day (makeup, general dirt) while leaving skin soft and herbal smelling, in a French kinda way.
5. Lierac Lait Sensoriel ($29, Lierac)
This lotion, meant to used on the body, has a highly moisturizing formula of nut oils (argan, hazenut, almond) and botanicals (gardenia, jasmine, camellia). It's also described to be a "pearly lotion," which actually just means that its tiny flecks of mica particles will leave skin looking subtly shimmery. 
6. Kérastase Elixir Ultime ($54, Kerastase)
Formulated with corn, argan, and camellia oils, this "elixir" is a super treatment for hair. Use it like a mask before shampooing to pretreat follicles, or apply it to styled hair for an extra touch of shine and de-frizz benefits. Do not drink it.   
7. Clé de Peau Beauté Clarifying Emulsion (Emulsion Eclat) ($118, Bergdorf Goodman)
The most confusing part of this French-named line is that it is not French at all (surprise!). It's manufactured in Japan, but we'll still tell you what this rather cryptic product does. Unlike most emulsions, this doesn't need water to actually emulsify. Just dab the moisturizing liquid onto skin after cleansing for an extra dose of quick absorbing hydration — but at $118, you could also just skip it and use your own moisturizer. 
8. Caudalie Beauty Elixir ($18, Caudalie)
The French love their magical "elixirs," and this one is no exception. It has a cult following and can be spotted in most makeup artist kits. Infused with grape, orange blossom, rose, balm mint, and rosemary, a few spritzes instantly perk up skin.
9. Biologique Recherche Lotion P50 ($57, Biologique Recherche)
Makeup artist Tom Pecheux relies on this product to reverse years of what he calls "bad skin decisions" (smoking included). A daily swipe of a cotton ball soaked in the clarifying toner (it's not an actual lotion) will help improve the appearance of pores while also hydrating skin and balancing its sebum production.