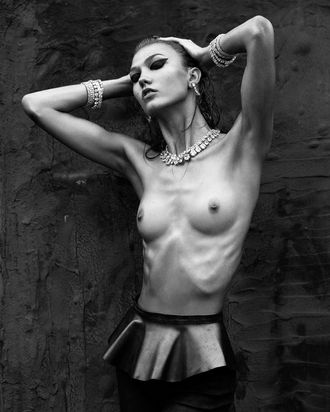 Yesterday, photographer Greg Kadel sent around his spread for the magazine's October issue featuring Karlie in a variety of seminude poses (with some bones sticking out here and there, as they tend to do), only to find out today that Numéro digitally smoothed her torso, likely to avoid another "Vogue Italia or Thinspo Forum?" debate. Greg Kadel Studios e-mailed the following statement to the Cut:
It was Greg's desire to represent Karlie as she naturally is … slender, athletic and beautiful. That is why he released the images as he intended them to be seen by the public. He is shocked and dismayed that unbeknownst to him, Numéro took it upon themselves to airbrush over his original images. Greg stands by his original artwork and cannot stress enough that he not only was unaware of the magazine's retouching but also finds the airbrushing of Karlie unacceptable and unnecessary.
But ribs are a disposable part of the body, really. Didn't Janet Jackson have two or three taken out?