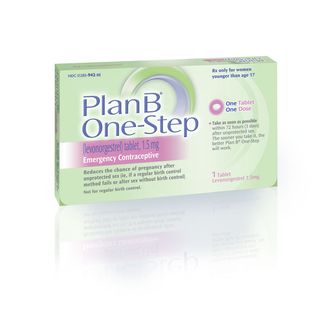 Photo: Courtesy of Plan B
Brace yourself, sex-positive pragmatist. This weekend the news media found out about the year-old New York City Department of Health program that distributes hormonal birth control to high school students, known as CATCH, for Connecting Adolescents to Comprehensive Healthcare. Through the pilot program, which the New York Post calls "unpublicized" (Who could blame them?), 567 students received Plan B tablets and 580 students received Reclipsen birth-control pills across five participating schools during the 2011–2012 school year. This year, the program has been expanded to thirteen schools, chosen because "they had a dearth of health services nearby and they served a student population known to have a higher risk of pregnancy," according to the New York Times.
So far, news reports are stressing that CATCH makes morning-after pill Plan B, which requires a prescription for girls under 17 in New York, available without parental consent. But parents were informed of and given a chance to opt out of CATCH by letter; only one to 2 percent returned the form. And there still seems to be some confusion about the function of Plan B. One unhappy parent at participating High School of Fashion Industries told the Post that "parents should know if their daughter is pregnant," even though Plan B is not prescribed to pregnant students. Meanwhile, a quarter of city students already have access to privately operated health centers with the same offerings, according to the Times.
Now for the depressing statistics sure to be lost in the fury over free slut pills for teens: Seven-thousand girls under the age of 17 got pregnant last year in New York City. Ninety percent of those pregnancies were unplanned, and 64 percent of them ended in abortions. Seventy percent of the 2,200 who became moms dropped out of school.