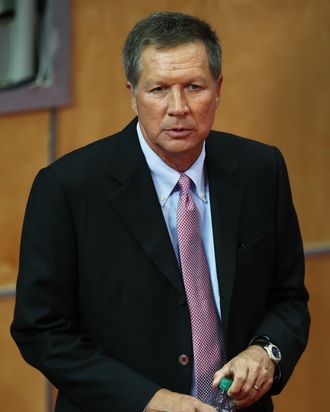 Photo: Scott Olson/Getty Images
Speaking at a Romney rally yesterday, Ohio Governor John Kasich jumped on Ann Romney's "My Career Choice Was to Be a Mother" train, proving that the party is not hostile toward women by thanking and praising them for their housewifery.
"You know, Jane Portman, Karen Kasich, and Janna Ryan, they operate an awful lot of the time in the shadows," he said in the video below, pulled by Plunderbund, dragging the wives of fellow Ohio Republican Senator Rob Portman and GOP vice-presidential nominee Representative Paul Ryan into it. "It's not easy to be a spouse of an elected official … You know, they're at home, doing the laundry and doing so many things while we're up here on the stage getting a little bit of applause, right? They don't often share in it. And it is hard for the spouse to hear the criticism and to put up with the travel schedule and to have to be at home taking care of the kids."
Now, there are a lot of ways to be outraged about this. For one, it's probably pretty easy to be the spouse of an elected official, compared to being a single, working mom. (To say nothing of being a single, working mom living in a Romney presidency.) Plus, there are all the spouses of elected officials who do have jobs beyond "the shadows" to be offended for. And then there's this Kasich quote from last year, which does not exactly inspire hope: "My wife makes all the minor decisions about where we live, what we eat, where we go, where we vacation and what we do on a daily basis. .. So, she's in charge of the family and she's done a fantastic job."
But since the laundry clip is taken totally out of context, it's hard to know what kind of outraged, if any, to be. In the meantime, doing laundry sucks and here's an elected official acknowledging that housework is work. Parlay that into some domestic workers rights, paid maternity/paternity leave, and free day care, Ohio.