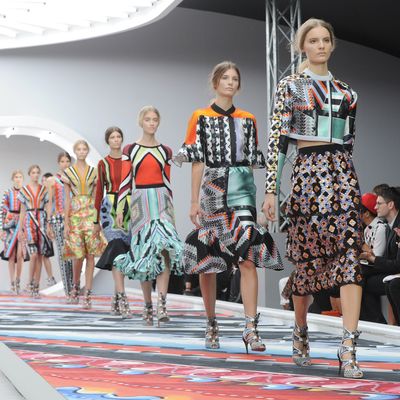 Photo: Stuart Wilson/Getty Images
There was a minor disagreement at London Fashion Week this morning. Not over how uncomfortable the seats are at the Topshop Show Space or how great it is to discover (alas, on day four) that there's a press bus shuttling journalists between shows — we were in total agreement on those important points. But while my companion made a "meh" expression at the end of the Peter Pilotto show and dropped the D-word (yes, derivative), I loved every minute of it.
Perhaps I was dazzled into submission, but the intricate digital patterns rendered in sequins immediately got my vote, and by the end of the show, I was near-drooling over bias-cut mid-calf dresses lavishly embellished with beads and mirrors. The cotton jumper knits felt wearable and chic, while the cropped, psychedelically printed jackets would be a perfect statement purchase for spring.
In the midst of a week crammed with print-loving designers, sometimes it's hard to get a handle on what's fresh and what isn't; however, at a certain point, you simply have to focus on whether you'd feel happy in the clothes. So, would you be overjoyed to put on one of Pilotto's geometric print dresses, with their waist-sculpting silhouettes and surfaces glittering with reflective color? Personally, I'd climb over elderly relatives for one. And that's enough gushing for now.