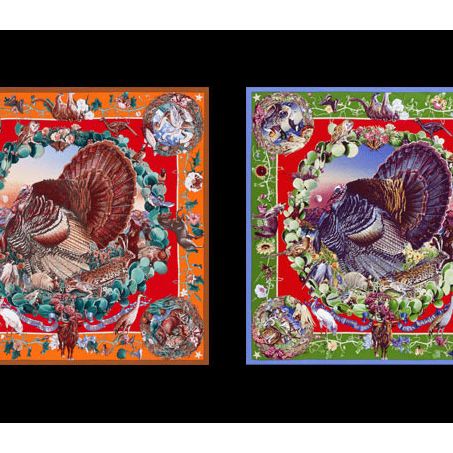 Kermit Oliver's Hermes designs.
Photo: Courtesy of Texas Monthly
The latest issue of Texas Monthly features a fascinating profile of Kermit Oliver, a reclusive resident of Waco, Texas, who works the night shift at the local post office and paints during the day. In other words, he's the last person you'd ever expect to design $410 silk scarves for ultraluxury French label Hermès. It's worth reading the story in full, but here's how the connection came about: In the seventies, Oliver was represented by the well-respected DuBose Gallery in Houston. He befriended the gallery's publicist, Shelby Sanders Stroope, wife of Lawrence Marcus, the executive vice-president of Neiman Marcus. When Xavier Guerrand-Hermès, then the president of Hermès's U.S. operations, told Marcus he was looking for someone to make a Southwest-inspired scarf design, the collaboration was born. 
Oliver later retreated from the art world and now lives a secluded life with his wife Katie. The only paintings he sells are those commissioned by art consultants, and he pays the bills with his post office job and the occasional scarf design. Since 1980, he has made a total of sixteen; you can see more of his intricate works here.