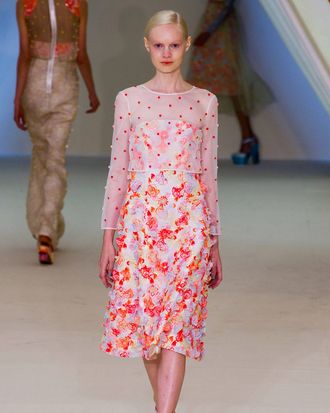 Halfway through today's much-anticipated Erdem show, the lights went out, the music died, the entire bank of photographers groaned audibly, and the blogger sitting next to the Cut exclaimed, "Gosh!" at the top of her voice.
The event was held in Manchester Square Gardens in a huge semispherical tent. Those of us on the outer edge had to swat away several flies, which gave the whole thing the feeling of the world's most glamorous camping trip. The venue had also heated up to tropical temperatures — no word on whether this caused the power cut. We should have packed our flashlights.
The models, impressively, remained composed. They quite literally took the incident in stride, continuing to walk in perfect time and with expressionless faces until the power came back a minute later. They were rewarded with a smattering of applause from the audience, which included Anna Wintour and Samantha Cameron.
Luckily, the collection spoke for itself, and a technological hitch could be easily forgiven. The dominant palette was pastel blue, lilac, lemon yellow, and dusky pink contrasted with panels of snakeskin and graphic, retro florals. Textures were interesting, too, with generous use of appliqué and sheer fabrics beaded with polka dots. And the shoes. Nicholas Kirkwood's glorious chunky platforms and cloglike almost-flatforms came in the same prints and shades as the clothes, with twinkling silver sections thrown in for good measure.
The fashion pack was more than happy with the offerings. A tweet from Grazia's editor-in-chief, Jane Bruton, summed up the general consensus: "Eek — power cut at #erdem. But with dresses as beautiful as this, who cares?"