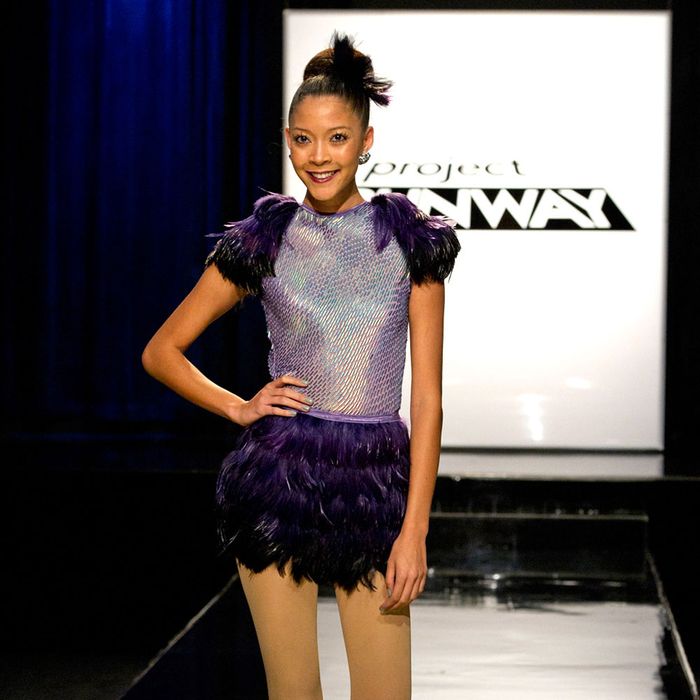 This week kicks off (brace yourself for the Rockette puns; they just write themselves) at Radio City Music Hall, where Tim and the Rockettes are waiting for the designers. After the performance, the kick line and the curtains part, and there's Heidi in the middle. "And the way she moves!" exclaims Dmitry. "Oh, baby … " While it's tempting to dismiss this as a total vanity exercise on Heidi's part, if I were a 39-year-old with legs like hers, I would be inventing reasons to wear Rockette costumes constantly. The designers are tasked with designing a costume for the Rockettes that they'll wear in an actual show; the look has to be modern, functional, versatile, and generally spectacular both up close and at a distance.
Everyone's theoretically excited about designing for the Rockettes, but Dmitry's the most confident. He explains that this is a result of his career in ballroom dancing, which began when he was 6 years old. That his explanation is not intercut with childhood pictures of him in tiny dance outfits is a colossal misstep.
Then it's off to Mood, where Elena is $150 over budget at the counter, and as she stands there paring down her supplies, it makes me wonder whether designers could just always bring tons of fabric and notions to the checkout counter to buy a little time to consider what they really want to use. If this winds up being a workable loophole, you're welcome, Runway contestants of the future!
After a sedate group dinner — seriously, no one cries or throws anything, and the only hint of interpersonal drama comes when Elena voluntarily apologizes for being mean to Dmitry in the past — the designers head to the workroom, where no one's particularly enthused about their design. Sonjia, in particular, still has no idea what she's going to make. Christopher tries to ask what she has planned (while wearing a head wrap nearly identical to the one she always wears in the workroom), and she just responds, "Babygirl. You know I don't sketch."
Just as Sonjia's on the verge of tears (again), in comes Tim. "I like waiting a beat and then hearing the truth," he says, pensively, after asking the designers how they're doing. Elena's been doing high kicks around the workroom (unhinged Elena is my favorite Elena), so it's fitting that Tim takes a look at her band-uniform-ish outfit and says, "I feel like you should go over to the Lord & Taylor accessory wall and pick out a baton!" Oh, Tim. Even with your zingers, you are a master of product placement. Tim finds the designers' preliminary work so lacking that he offers them $100 and a second fifteen-minute trip to Mood to get what they'll need to take their designs up a notch. Ven, Dmitry, and Fabio stay behind, leaving me to wonder whether Tim let them keep the $100 anyway. (Probably not, but I'm oddly amused by the idea of Tim handing out bills the way a dad leaves pizza money with the babysitter.)
I know we're generally supposed to root for reality-television contestants to hate each other, and they usually don't even need any encouragement, but it was really lovely to see the designers help Melissa fix her design when it refused to come together. Christopher gave her an extra $50 at Mood, Ven hand-sewed some of her bead work, and pretty much everyone tried to help her repair the zipper that ripped out of her look just before the runway show. Sure, it's a competition, and yes, the fashion world is cutthroat, but it's touching to see them lend a hand.
Debra Messing joins the judges' panel, and while she's legitimately insightful and as likable as ever, it's odd that an actual costume designer isn't judging — Lizzy Gardiner would've been perfect, or Rockettes director Linda Haberman. Christopher takes home the win for his look that incorporates the New York skyline, and while it's definitely iconic, it has to be hard for Dmitry to have Michael Kors tell him his look is "couture perfect" and then not come in first. And while there were some real train wrecks on the runway this week, it's Ven who's out, which finally proves that if he's not making fans or flowers, his designs really aren't much to look at.
Click through the slideshow to all of this week's looks. Are you glad that Ven (or the Origami Rose, as Michael called him) is gone?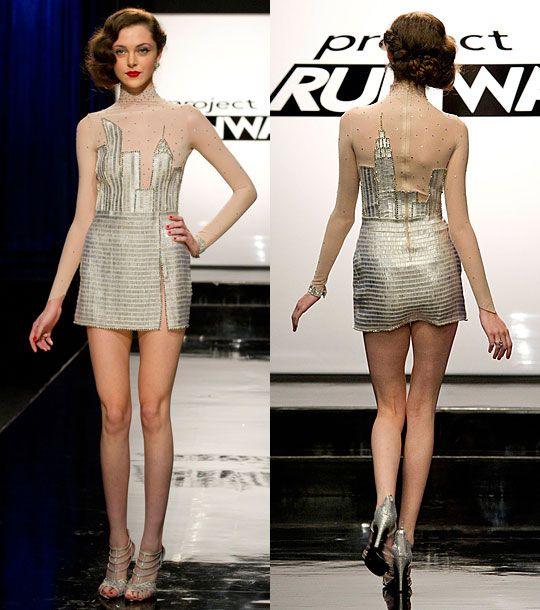 Christopher Palu – Winner
The whole process of creating this design – making the plan, finding the correct fabric, figuring out the silhouette of the skyline – and it was incredibly innovative but also, as Michael pointed out, a huge risk. If any step in the process had derailed, the end result would've been a disaster. Heidi loved the message of the look (which was, I guess, that New York is a city?) and Nina said that it was a tribute to New York at its best. Debra called it celebratory, dignified, and magnificent, and Christopher sweetly mumbled back, "Thank you, Debra Messing."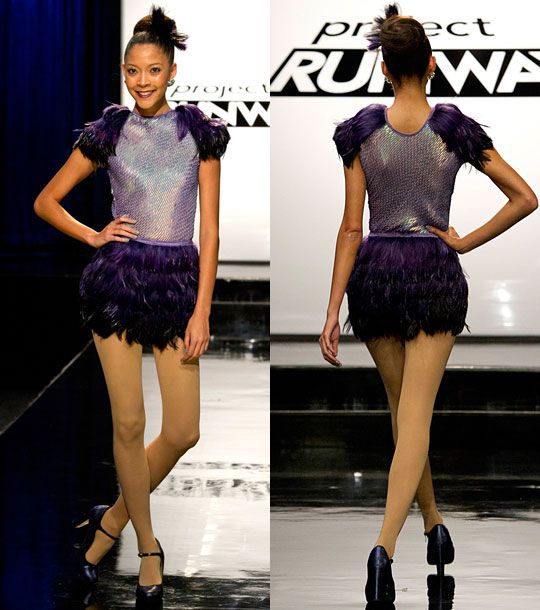 Sonjia Williams
Sonjia struggled a lot with this challenge, and that showed in the end result. Nina pointed out how bizarre it would look to see 36 girls all wearing these costumes and dancing (the phrase "disco turkey" got thrown out a lot), and Debra said that feathers are notorious for shedding, and no one wants to see a "molting group of Rockettes." And Michael pointed out that it read a little cheap and unsophisticated, without any of the glamour that's typically associated with the Rockettes. It would be more in place in the bizarre-nostalgia nook at Forever 21 than on the stage at Radio City Music Hall.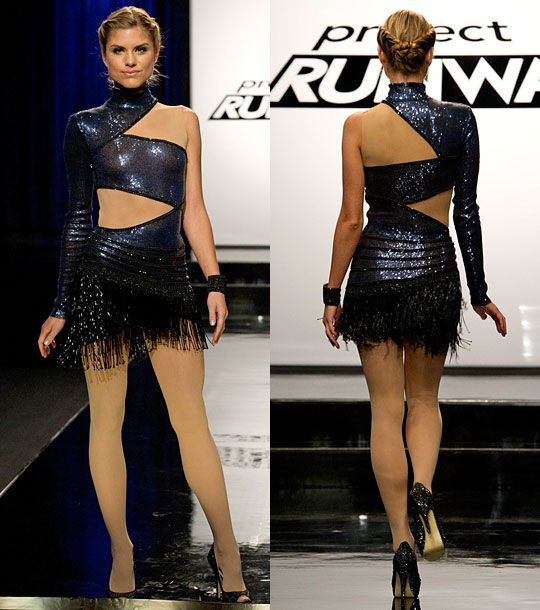 Dmitry Sholokhov
While I'm glad Dmitry finally got his win last week, I can't help but feel a little robbed on his behalf this week. Heidi loved the look, especially the combination of blue and black, and Michael said that it was exciting, polished, and impeccably made, while staying true to Dmitry's aesthetic. He went on to deem it "couture" quality. If it was nearly perfect, why didn't it take the win over Christopher? Unrelated: Did this remind anyone else of his candy dress?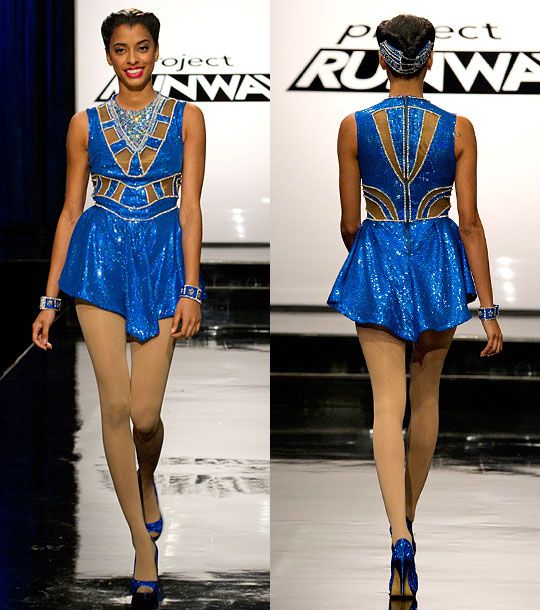 Elena Slivnyak
Elena really tried to do something different here – it's not monochromatic and there are no shoulder pads, hooray! – and the judges appreciated that, but still hated the look. Michael said her model looked like a Las Vegas cheerleader; Debra then upped the ante by saying it would be a beautiful costume… for the circus. There was just too much glitter and sparkle, which made the look seem really unsophisticated, even if the original idea behind the design would've been really appropriate for Rockettes.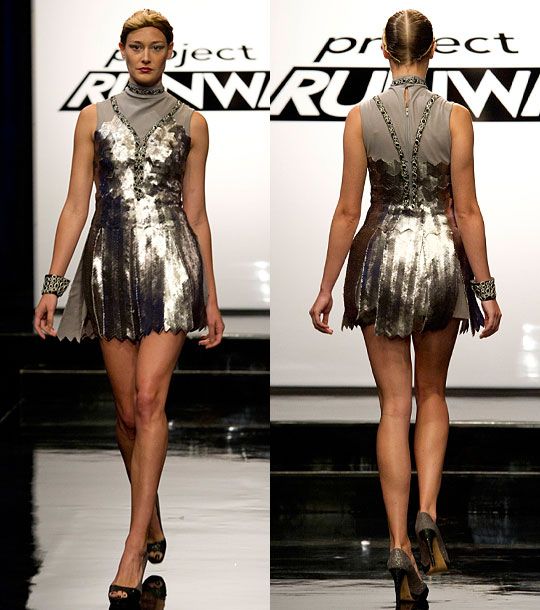 Fabio Costa
Fabio wins the distinction of being the very last "safe" designer – by next week, few enough designers remain that everyone will either be in the top or the bottom – but I have to say that between him and Melissa, I'm surprised he wasn't in the top. His costume had really lovely movement and a nice sense of fluidity coming down the runway, but his best moment of the episode came when he complained to Tim about what a bitch his sequins were being. "Bitch slap that bitch!" Tim replied.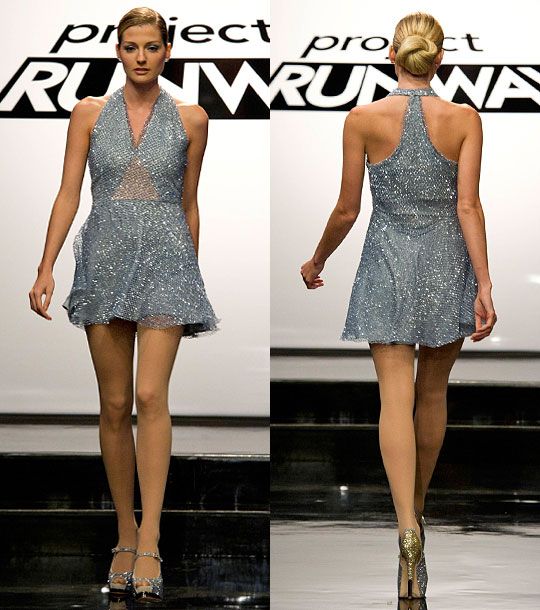 Ven Budhu – Eliminated
You could tell by the way Heidi clenched her jaw when Ven's look came down the runway that he was a goner. While Debra really liked this look, the other judges were roundly dismissive of it. Heidi called it "non-designed" and Michael said that there wasn't anything sexy about it, although he pointed out that it didn't have to turn into a "porno moment." But the most important thing that happened here is that Ven made it a point to design without his traditional colors, styles, or techniques, and the result was unremarkable at best. What does that say about his range?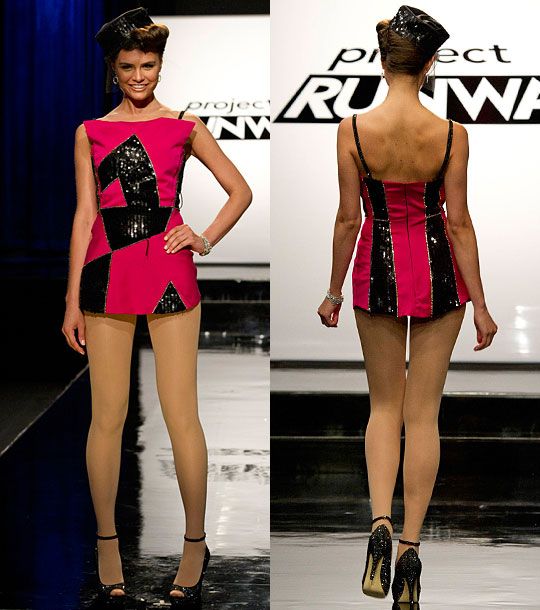 Melissa Fleis
Melissa's presence at judging was a bit baffling, because it seemed like her scores had placed her in the top initially, but the judges liked her look less and less the more they saw it, particularly Heidi. Michael liked the dramatic, graphic aspect of it, but said on the whole, it looked like a cocktail dress "cut off," and Debra was "confused by it." The fact that Melissa's model made it down the runway with clothes on at all was a true group effort, and I wonder whether Ven will regret the time he spent helping her, since his own look got him eliminated.