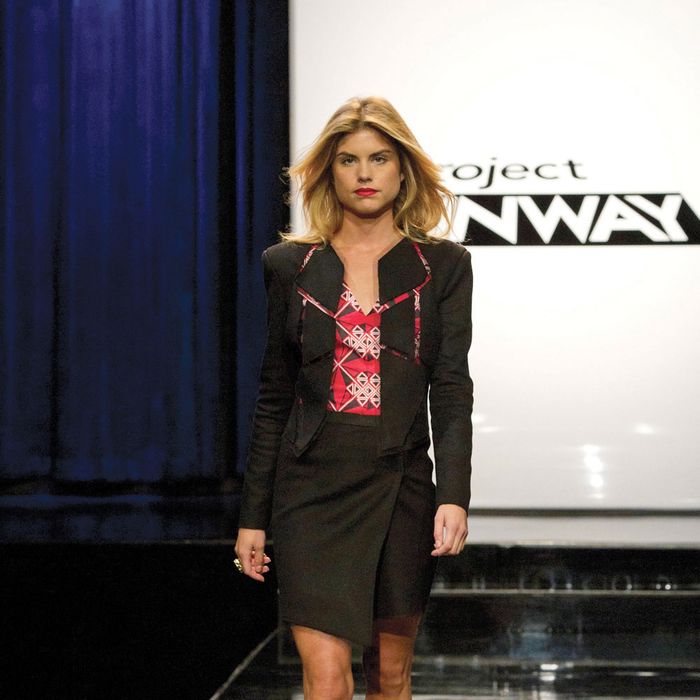 This week, it's the HP and Intel challenge! As Tim and Mondo Guerra explain, the designers will create a textile and modern runway look that's inspired by their individual cultural heritage. Mondo's there both because he's schilling the bag he just designed for HP (this is the point in the episode at which all those playing the "drink anytime they say HP" drinking game should seek medical attention), and because he won the textile challenge during his season. Mondo tells the designers, "Be honest! Apply your truth to what you create!" Mondo for president! Tim tells the designers that they'll be getting a special delivery of a "cultural heritage dossier," and the specific way Tim pronounces "dossier" is exactly as adorable as one might expect.
The delivery people turn out to be members of the desginers' families! For the record, this is a far more humane way to involve loved ones than forcing them to model clothes. Each designer watches a combination video/slideshow of their home and childhood, and they're all adorable (tiny Sonjia for the win!), but the video of Dmitry's father in Belarus is really touching; both his father and his grandfather were professional artists, and his father tells him, "Inside of you lives an artist, too." Fabio and his boyfriend are darling, Gunnar is delighted his mother wore a dress (and promises her a boob job if he wins the competition), and Elena's mother just plain looks good. Elena is so thrilled to see her that, when the family members head back to the apartments to make dinner and the designers go to Mood, Elena actually skips and giggles. If it is possible, Happy Elena is even more unsettling than Volatile Elena.
After the textiles arrive, it's right down to business. As Fabio unfurls his, he casually talks about how it's penises and vaginas and fallopian tubes, although he never says whether or not this was intentional (and I'm not sure if it being intentional makes it better or worse). When Tim (belatedly) sweeps into the workroom, he announces, "I've been having separation anxiety but I'm here now!" He tells Christopher to follow his heart, suggests Dmitry "sex up" his design, and warns Gunnar not to let his look (inspired by the harassment he underwent as a kid) become a "'don't bully me' suit of armor."
And then Tim comes to Ven. He looks the white dress, with its pink and red-ish splotches, up and down and says, "I … see an homage to the menstrual cycle." When Ven says he doesn't understand, Tim takes it one step further. "It looks like cloth that's soaked up blood. They look like maxi pads. Designers?! Am I crazy?!" I'm a strong believer in Tim's ability to pluck similies out of the sky; at the same time, he's disliked Ven for a while now, and Ven's designs are reliably white, red, and pink, so I wonder whether this is something Tim's been hoping to say for a while. At any rate, Ven scraps the menstrual dress and starts a new one, but first he cries a little, saying Tim's critique really hurt because flowers mean a lot to him.
Then it's off to the runway for a relatively even show, where Dmitry (who finally wins!), Melissa, and Sonjia are on top and Christopher, Gunnar, and Ven are on the bottom. Things really get interesting, though, once the designers in the top and bottom are sent away to wait as the judges deliberate. When they're discussing Ven, Heidi says that she can't believe that Tim's never told him to stay away from the fanning and the flowers that keep appearing in his designs (she asked Ven whether Tim ever discouraged this, and Ven flat out lied). "Can we please get Tim Gunn out here?" she demands, and out he trots. As far as I know, Tim's never shown up at judging to report on workroom happenings, and it feels a lot like the thing where your mother threatens to call your elementary school teacher to make sure you really don't have homework, only it's actually happening, it's on national television, and everyone is saying "maxi pad" a lot.
In the end, though, Ven gets to stay, and Gunnar's sent home. Ven, never one to do anything graciously, gives a speech about how he really can do a lot more than fans and flowers, while Gunnar just has to stand there. As Ven's leaving the runway, Heidi calls after him, "I hope you show us, not just tell us. I'm telling you. If we see that flower thing one more time … "
Click through the slideshow to see this week's looks. Was it really Gunnar's time to go?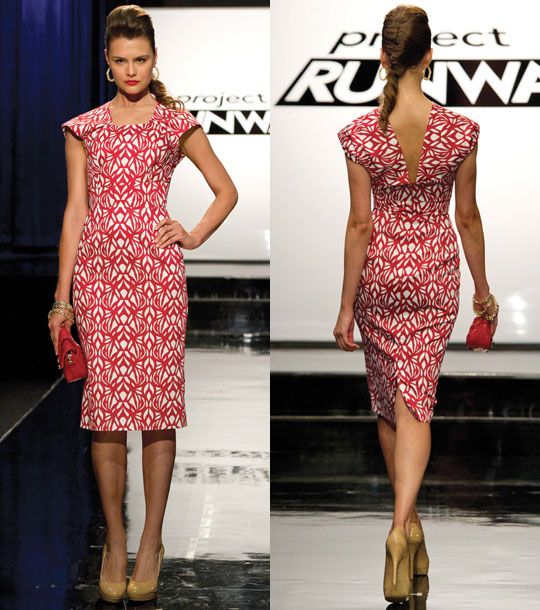 Melissa Fleis
As Michael said, "Who would've thought that Melissa was going to go to Park Avenue and give us this uptown girl?" This is decidedly outside of Melissa's comfort zone — no black to be found — but I'm pleased to see her take on something outside of her comfort zone, and to present something with strong ties to Polish culture that wasn't costume-y. Nina called it chic, smart, and appealing to a lot of girls, although she along with the other judges would've liked to see Melissa incorporate what they refer to as her "coolness" into the look. (This has to be frustrating for Melissa, since when Heidi Klum says "cool," there's no way to know what she actually means.)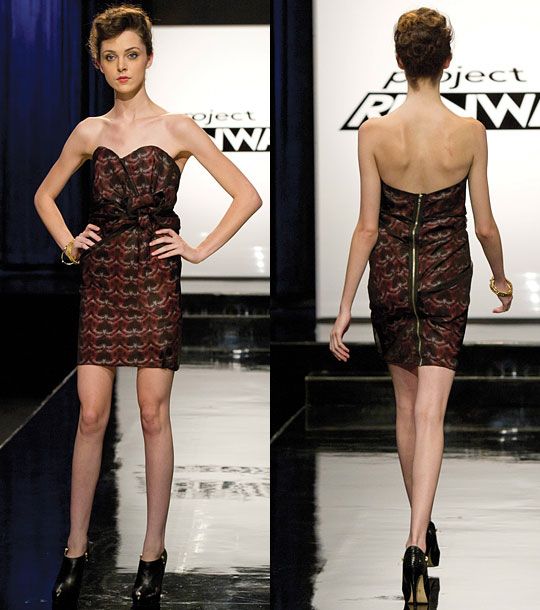 Christopher Palu
This seems to be the silhouette Christopher returns to when he's not sure what to do, but like Heidi said, this isn't the point in the competition where you can turn to your failsafe techniques. Every piece has to be a showstopper, and this one was underwhelming. I loved the story behind Christopher's print — ladybugs have always been significant to his family — and liked the print initially, too, until it started to look less like ladybugs and butterflies and more like ovaries. Is this a Tim Gunn curse? Am I going to see reproductive systems in every print I look at for the rest of my life? Still, the black organza was clearly a mistake, and, as Anya said, it has a real prom feel to it.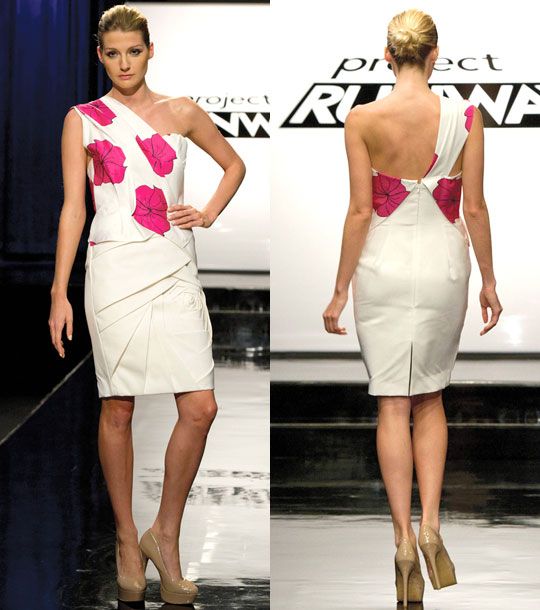 Ven Budhu
This was an absolute mess, and I'm very sorry Ven didn't go home. Heidi said that at best it's just a Hawaiian airline hostess look, but that "it's not good" and the blend of flowers — the constructed rose and the pink hibiscus and whatever else in between — is just bad (Mondo was slightly more diplomatic and called it "visually confusing"). Nina pointed out that the way he approached the challenge sends the message that he doesn't know how to work with prints, and the fact of the matter is that I'm not sure he can.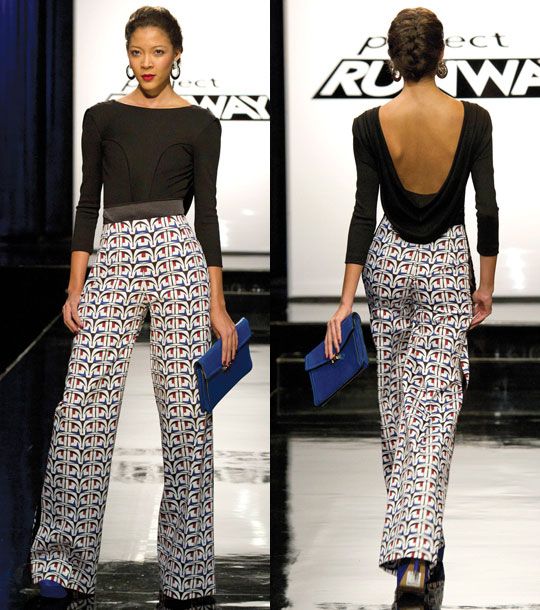 Sonjia Williams
Some parts of this look were, by Sonjia's admission, a little too literal; according to her, the pants are red, white, and blue because she's American, and the top is black because she's black. The tailoring on the pants here is impeccable, which, as Michael pointed out, is good because otherwise it would've looked like Pac Man was eating the model's crotch. (I wish I'd kept a running tally on how many times Michael has said "crotch" this season.) Nina loved this look, particularly the surprise of the draping in the back, which made the overall look young, cool, and chic.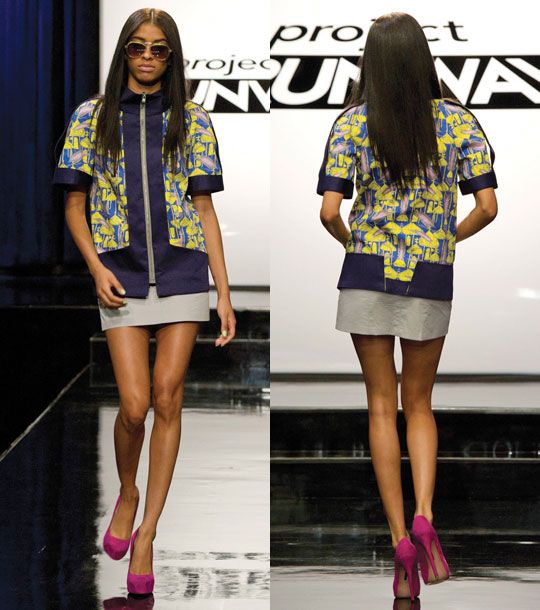 Elena Slivnyak
When Tim looked at Elena's design in the workroom, he said "I don't know — you have kind of a Marlo Thomas/That Girl thing going on here," and she told him she didn't know who he was talking about. Exasperated, he replied, "I'm too old for all of you!" Elena liked this look a lot — she called it the most modern out of anyone's — and it's nice to see her do something so bright. I like the textile (Christopher didn't and called it a "kindergarten scribble"), but overall it doesn't seem to get past the feel of nurse's scrubs plus kimono.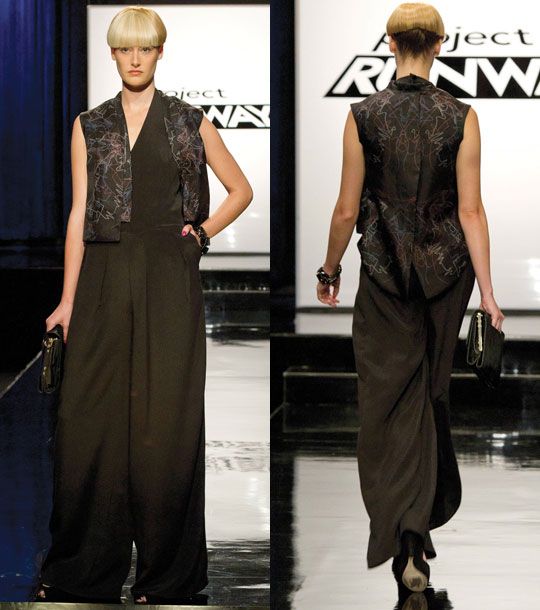 Fabio Costa
I can't take points off for construction here, especially on the trousers, which moved really beautifully on the runway. That said, everything about this look confuses me, from the sex organ print to the bowl cut wig to the fact that the textile is used so sparingly over that whole big sea of black jumpsuit to the fact that a look that's so odd and over the top is paired with the smallest, most sensible black clutch ever.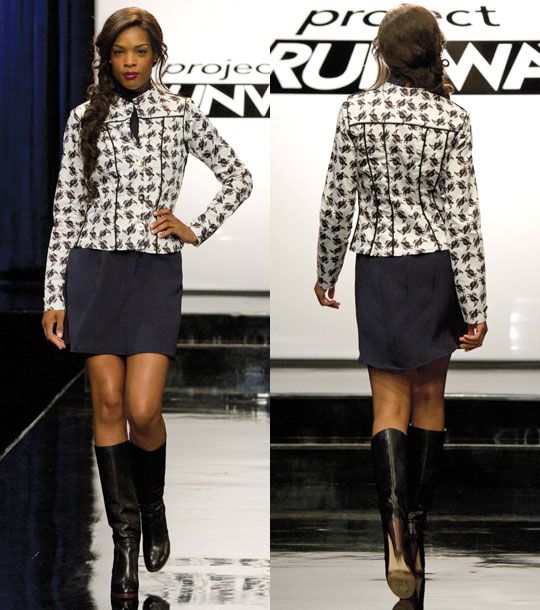 Gunnar Deatherage — Eliminated
Poor Gunnar. As he said himself, he knew from the outset that he was in over his head here — this was a challenge where the people who succeeded had a very clear idea of what they were going to do before the fabric was delivered, and he's always worked more spontaneously than that. And while the judges were moved by the inspiration for the look — the hand and the bird represent Gunnar's childhood struggle with bullying — I agreed with Nina's point that one doesn't necessarily want to wear an outfit that's about something like that. The most spot on criticism was Michael's: the textile looked like a sheet of bird postage stamps.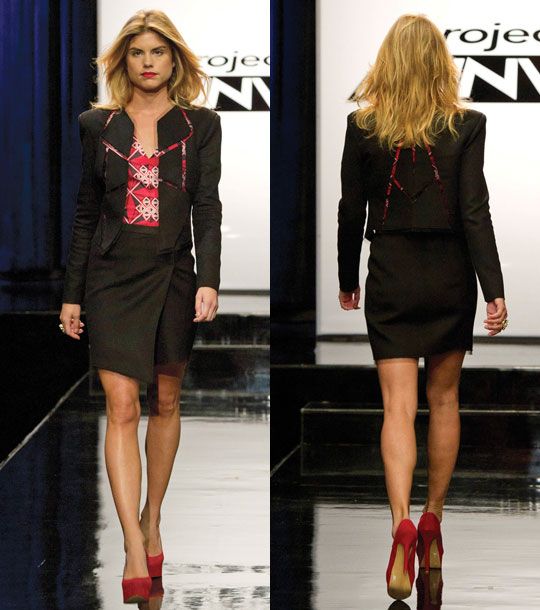 Dmitry Sholokhov — Winner
At last, a win for Dmitry! Michael told him that the look did everything the judges hope the designers can deliver on: design, concept, execution, and wearability. Heidi said she'd absolutely buy it (and priced it at around $1,500) and called it "crazy good." Nina called the jacket phenomenal but told Dmitry that he has to start working on more minimalistic styling (since he'd asked his stylist for "Joan Crawford but the futuristic version of it," I tend to agree). What was especially touching, though, was to see a guy who typically prides himself on being hard and detached talk about how his main goal with this look was to present the emotion and memory of growing up in a family of artists.