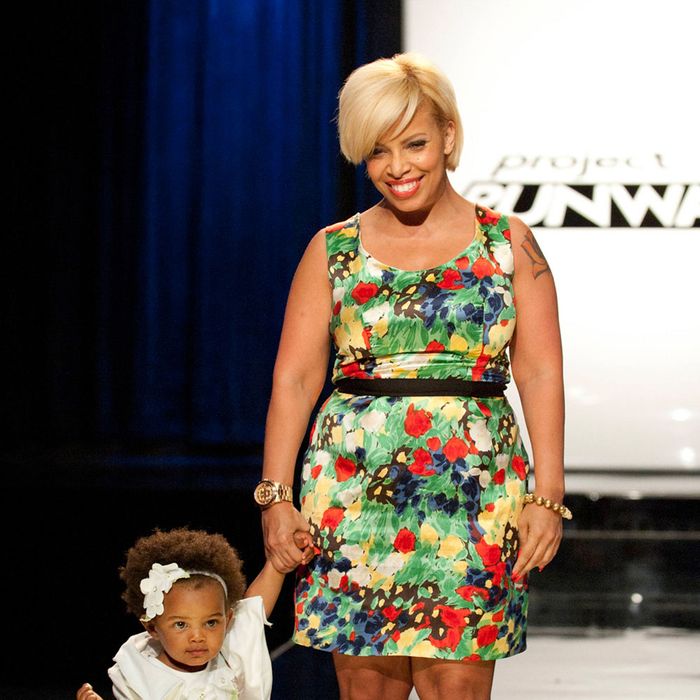 It's babies on the runway week! The designers meet Heidi and Tim at Babies "R" Us, and immediately, everyone knows why they're there: It's a challenge for Truly Scrumptious, Heidi's new babywear line for the infant in your life who needs a fringed poncho ASAP. Each designer is paired with a toddler and his or her mom, and tasked with designing a head-to-toe look. Dmitry's immediate response? "We're all screwed. Those babies are really, really small. I'm not even sure how old they are, but I'm pretty sure they can't talk. It's like making an outfit for a cat."
The challenge will have two winners — a look for boys and a look for girls — and each winning look will be sold at Babies "R" Us. No trip to Mood this week; Heidi provides notions and fabric from the Truly Scrumptious line so that things stay cohesive. Say what you will about Heidi Klum, but she does not mess around with her branding. (That's not criticism. Good for her.)
After the designers consult with their tiny clients (and their opinionated moms), Heidi sends them back to the workroom with the promise that there's a special surprise waiting for them. "I know it's not a surprise," Elena says. "I know it's something fucked up." And it is! They're RealCare Babies, programmed to cry and scream when they need tending. Tim says, gravely, "We are giving you these babies so that you can understand what goes into creating clothing for infants." Why do you have to make a liar out of Tim Gunn, Runway? The designers are being given the little robot babies because it's great — even hilarious — television, and that's fine, but don't pretend this is happening for any sort of logical, challenge-related reason.
It's hard to know where to begin when recounting the high points of the designers' stints as baby mamas/daddies. Unsurprisingly, Dmitry and Elena had the best banter about the situation, when Dmitry announced, "My baby's name is Brandon. What's yours?" and Elena snapped back, "Her name is asshole." Fabio was very sweet and tender with his tiny robot, explaining in all sincerity at one point, "I'm polite. My kid's polite. He's just going through something." And Christopher proved once again that he's uniquely qualified at providing Runway's producers with sound bites when he dramatically dropped his fabric and sighed, "Now I know why Judy went off the deep end with Liza."
Heidi and Tim come by to check on the designers, and the robot babies stop screaming as soon as they enter the workroom, which I choose to believe is because Tim Gunn has actual magical powers and not because of editing. After a quick critique, Heidi announces that she has another twist: The designers will be making a look for the mothers of the babies, too. The designers put their robot babies into carriers and head to Mood, where Tim makes it clear that the mom isn't a client; instead, the designers are making her an outfit to wear as she accompanies her baby on the runway.
It's a good distinction, and it's one the mother paired with Christopher has no understanding of. When she comes in for the preliminary fitting and they're looking at the dress for her daughter, she smirks and side-eyes at him until finally, as he's complimenting her eye makeup to try to break the tension, she mutters, "I don't like it. Not under any circumstance." Christopher freaks out until Sonjia tells him that he really doesn't need to worry about "what Mary J. Blige thinks about anything," and she's right, but it's an unfortunate spot of negativity in an otherwise cute, sweet (and, yes, strange) challenge. Meanwhile, Elena and Melissa struggle to get their looks together — at one point, Elena actually has to ask Dmitry how draping works, and it's shocking to realize that she's actually serious.
Down at the runway, Hilary Duff joins the judges' panel. She's sweet and very excited to be there, and the entire show is very cute, but Christopher's white dress with snap-on flowers and Sonjia's pants and blazer with tiny elbow patches win, and Elena is finally sent home.
Click through the slideshow to see all of this week's looks. There's only one challenge left before it's on to the finale, and I know who my top three are — Christopher, Fabio, and Sonjia. Who are yours?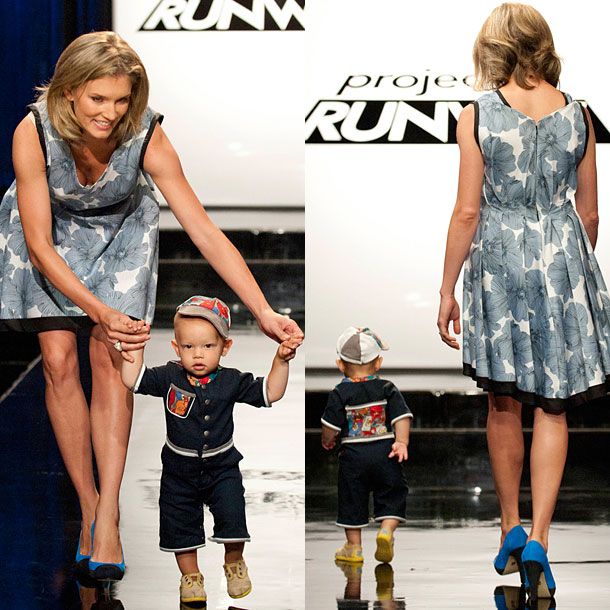 Fabio Costa
The hands-down best moment of this critique was when Nina mused about Fabio's baby, "He's not a little baby anymore. He's 14 months!" as though he should be wearing ascots and reading Proust. Michael loved that this was a modern take on nautical while still being very practical. Heidi liked the ease of the one piece and the detailing, which made it seem young and sweet. All the judges thought the idea and ease of a onesie were good choices, and had Sonjia's look not been as strong, this piece clearly would've been the winner — and the vintage feel would've made it sell well, too. But at this point, Fabio has so many near-wins that it's hard to imagine him winning the entire competition.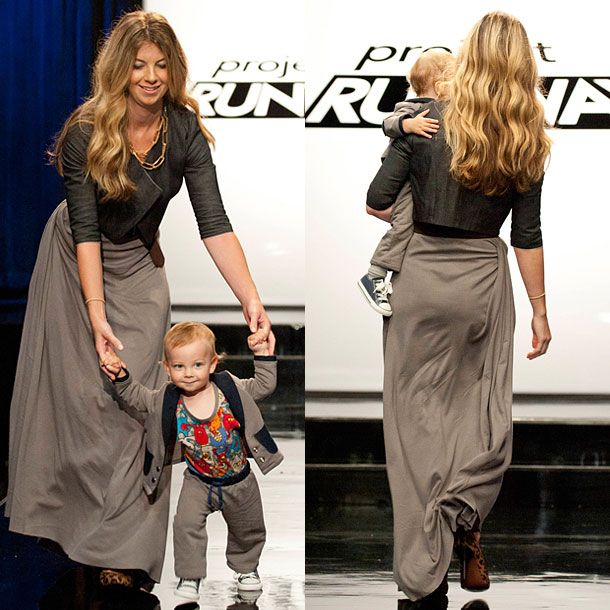 Sonjia Williams — Winner
This was the clear winner of the challenge. Heidi loved that he looked comfortable and like a little man. The judges also loved that it moved well and could be dressed up or down — a kid could be a ring bearer in a wedding or just be out on a playground in this look. The print in the tank top, which is one of the signature fabrics from Heidi's line, makes the look feel young and cute without being in-your-face or overly gimmicky.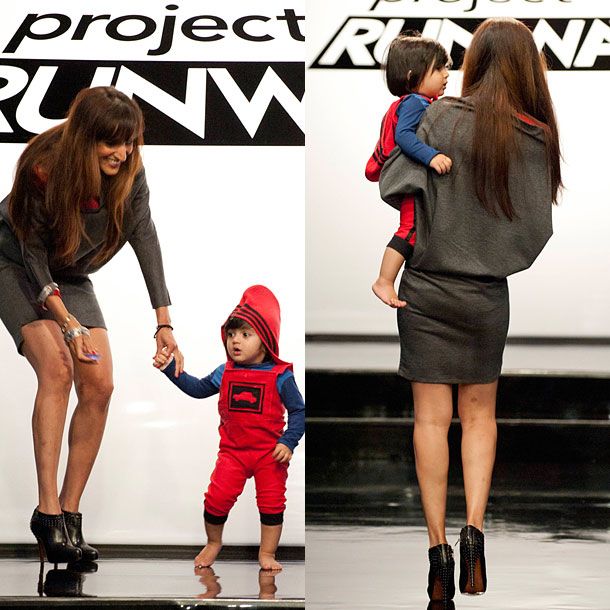 Dmitry Sholokhov
Dmitry wanted to do something cool, athletic, modern, and graphic, and what I like about this is that I can absolutely see Dmitry wearing something like it as a kid. Michael was confused about the fact that the hood zipped down into a sort of cape, and Heidi, Nina, and Hilary all explained to him that a lot of little kids' clothes have built in capes. "Really? It's a trend?" I think the judges' concerns about this reading a bit too costume-y were spot on but, as Heidi pointed out, this is definitely a piece that a kid would want to wear over and over again.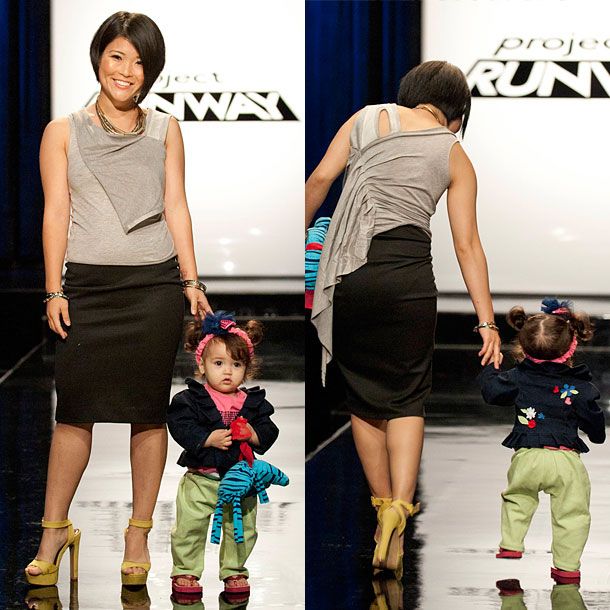 Elena Slivnyak — Eliminated
The main feedback this look got was that it was too much like "a baby sample sale," and that's true. While Elena had wanted to do something that could be dressed up or dressed down, the end result doesn't read high-fashion toddler (which is one of the more ridiculous phrases I've ever typed). Heidi and Hilary both loved the jacket, but Nina though the jacket was really impractical for a baby, which is true, but she didn't actually finish critiquing it, because Elena was angry enough to talk over her. Anger and all, though, I'm still weirdly sad to see Elena go.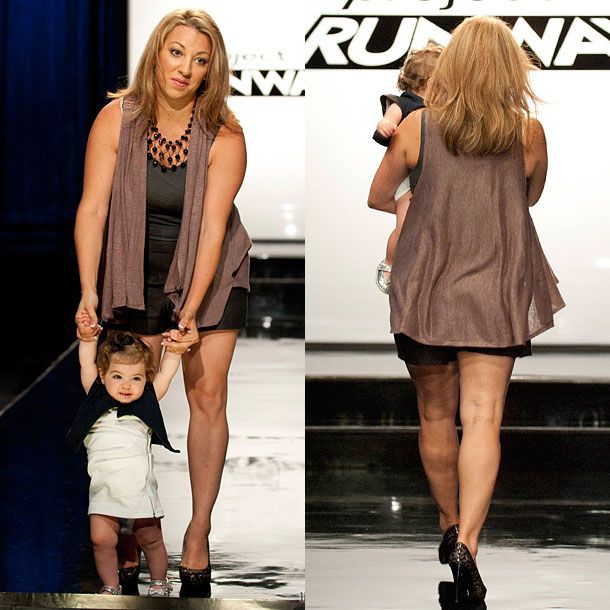 Melissa Fleis
Melissa was a mess again this challenge, and it was interesting to see all of the other designers agreeing the morning of the runway that they wouldn't help her out this time. Tim actually had to tell her to stand up and walk away from her sewing machine when time was up. The jacket/vest turned out nicely, and the judges — especially Heidi — really loved it, but there were lots of missteps in the rest of the baby's look, especially the side zipper that made direct contact with the baby's skin and the exposed diaper. As he has before, Michael harped on Melissa's choice of fabrics, but liked her look for the mom the best — Nina disagreed and called it impractical.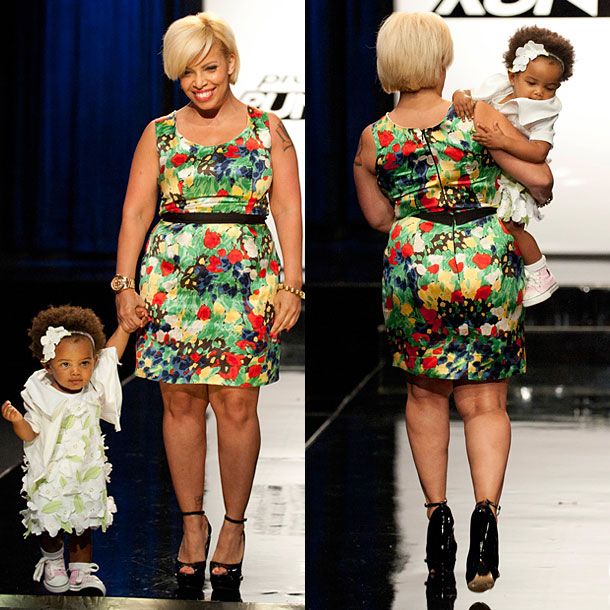 Christopher Palu — Winner
I wonder a little bit about Christopher's win here — granted, it was sort of by default, since the other two girls' looks were in the bottom, but as Sonjia pointed out, this is very occasional. It feels like a fancy brunch dress or a church dress, and while Heidi said after the fact that it's great to have one dress in a line like that, that wasn't the original challenge. That said, it's a very sweet dress, and the movement in the flowers is adorable and whimsical.