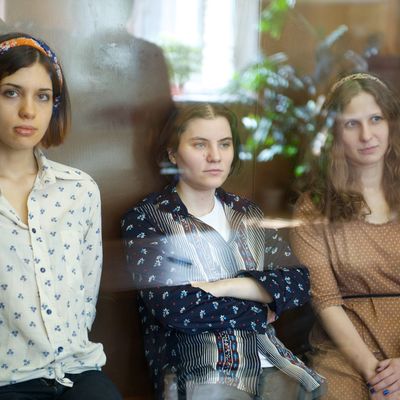 Photo: Anton Belitskiy/Demotix/Corbis
Ever since three members of Russian feminist collective Pussy Riot captured international attention after they were thrown in jail for their brief, balaclava-clad, anti-Putin punk prayer in an orthodox cathedral, detractors have been eager to attribute the West's interest in their cause to the women's good looks. (Yeah, yeah but have you heard them talk?) No one got the chance to ask the women how they felt about how we feel about them, because they were sentenced to two years in prison for "hooliganism" and "religious hatred."
But now we know, thanks to GQ's Michael Idov, who was able to sneak some questions to Nadya Tolokonnikova, Masha Alyokhina, and Katya Samutsevich through their laywer (although Samutsevich's answer's were confiscated).
GQ: Does it bug you as feminists that your global popularity is at least partly based on the fact that you turned out to be, well, easy on the eyes? 

Nadya: I humbly hope that our attractiveness performs a subversive function. First of all, because without "us" in balaclavas, jumping all over Red Square with guitars, there is no "us" smiling sweetly in the courtroom. You can't get the latter without the former. Second, because this attractiveness destroys the idiotic stereotype, still extant in Russia, that a feminist is an ugly-ass frustrated harridan. This stereotype is so puke-making that I will deign to be sweet for a little bit in order to destroy it. Though every time I open my mouth, the sweetness goes out the window anyway.
Pretty as she is, we like her best in the balaclava.