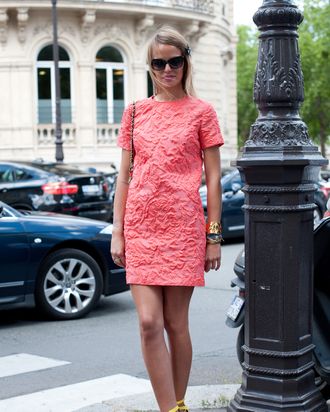 Photo: Kirstin Sinclair/Getty Images
"This year has been full of growth and change," Carlotta Oddi wrote in an e-mail to the Cut earlier this week, perhaps one of fashion month's most sincere statements. The 28-year-old Italian first caught our eye when her photo appeared in our haute couture street-style slideshow alongside the caption "Anna Dello Russo's assistant." After speaking with her in August, we followed up with Oddi a few days after her first New York Fashion Week, catching her at a time of mid-season introspection. "I had the chance to see shows that before I could only see online," she explained. "I found the Alexander Wang show to be exciting and unexpected. I love his style, shapes, and his garment construction." She also liked Michael Kors, calling the looks "handsome."
In Milan, her favorites (so far) were Prada, Alberta Ferretti, Max Mara, and Andrea Incontri — "Andrea was one of my hardest professors at the university, and now that I've seen his creations, I can say that he understands and represents an innovative and fresh woman." Read ahead to find out how Oddi met the Vogue Japan editor-at-large to begin with, whether she helps with Anna's Choosing of the Outfits, and what she has to say about her own often-photographed style.
Tell me a little bit about your childhood.
I grew up in Monza — it's a city about twenty kilometers from Milan, in Italy. When I was young, I was really feminine thanks to my mom. I loved to go shopping with her in Milan, to the Chanel boutique or to Prada — many of the Chanel accessories that I wear during Fashion Week came from my mother. My favorite game was Barbie, and I still have all of my Barbies with their clothes and accessories now — I'm holding onto them for my children, or something. But I always liked style and design. When I graduated from high school, my essay was about the relationship that literature, philosophy, and art have with fashion. And when I was trying to decide on universities, I can't forget my dad's words — he said, "Gianfranco Ferré is an architect, so you have to study, and then you will see if your future is in fashion system." So I signed up for the design school at Politecnico di Milano, where I graduated in interior design.  
What did you do after you graduated? 
I went to New York for four months, where I did an internship in an interior design studio. Then, I went back to Italy, and after another internship, I decided that I should return to the university to improve my knowledge of fashion. So I got my post-graduate degree in fashion design from the Politecnico. Three months later, this was last October, my brother called me, and said, "Okay, tomorrow at 2 p.m., you have a meeting with Anna Dello Russo in the Vogue Japan office." My brother works with my dad, but he and Anna have a mutual friend. So I went in to meet her, and an hour later, I was already helping them prepare a photo shoot. And three days later, I had the opportunity to help Anna and her team on set. It was like a dream come true.
What's a typical day like for you now?
It's difficult to say because, frankly, the days are scheduled at the last minute. I think many people at my age and level have the same problem. But I can speak to three types of "typical days" — when you're shooting, not shooting, and during Fashion Week. When we're shooting, Anna makes her decisions first, and we begin casting, or pulling the outfits and accessories, and we get organized, sometimes with help from the Vogue Japan offices in Tokyo and New York. When we get closer to the photo shoot, I stay in the office for the mail, opening the outfits and fixing them so we can make a final selection. Other days, when there are no shoots, I help Anna with everything she needs — I organize her appointments, I accompany her for press, or to go to presentation and events. And during Fashion Week, I follow a strict schedule. We have to be super, super organized. And then, two or three days a week we do the blog.
Do you help Anna choose her outfits?
No. Each person defines his or her own outfits — if Anna wants a pair of shoes for a show or a dinner, sure, but I can't choose her outfit … I've been inside her wardrobe apartment. She calls it her "second apartment." When I saw it, I felt like a child in Disneyland, or however you would say it. Everything is really organized — you can see shoe boxes lined up, with descriptions on the little ticket.
What is Anna like?
Working with Anna, you learn something new every day. She's a very enterprising woman and hard worker, and she always has new ideas, and sometimes very surprising ideas. As for whether she's asked me do anything crazy — I've never had a crazy request. But for Anna, impossible doesn't exist. When the time comes, I'll be able to do whatever she asks of me, I think.
So, what about your style? How would you describe the way you dress?
My style is romantic chic with a rock spirit. I love feminine silhouettes mixed with a black leather jacket, or pants and a white T-shirt. I'm totally in love with bows and studded accessories. I have a bow tattoo. And I try to stay ahead of the trends. I think Anna is entirely ahead of the trends, and I just try to stay one step ahead.
Who are some of your favorite designers?
Maria Grazia Chiuri and Pier Paolo Piccioli, who work for Valentino — for their ability to make you live a dream with a collection. Their garments and accessories are unique, but elegant and modern. Another one is Miuccia Prada, with Miu Miu (I like Miu Miu more than Prada — but Prada, too), for her captive genius and her stunning avant-garde collection that always offers fashion at its purest. I love the work of Christophe Decarnin for Balmain and I hope that he will return soon to the runway. I think his work is for a really strong woman — a sexy one, a rock one.
Do you pay attention to street-style sites?
Yes. I like Style Bubble, the Sartorialist, AnnaDelloRusso.com — even before I started to work with Anna — and Stockholm Street Style. When they photograph me, I'm happy. It's nice to know that someone appreciates your style and what you wear.
What would you be doing if you weren't working with Anna?
If I didn't have this opportunity, I'd want to work for another fashion magazine or another fashion brand, but my dream is to become a fashion editor. I think I can consider myself very lucky, and now, I hope that I'm able to start my career working with Vogue Japan and Anna.