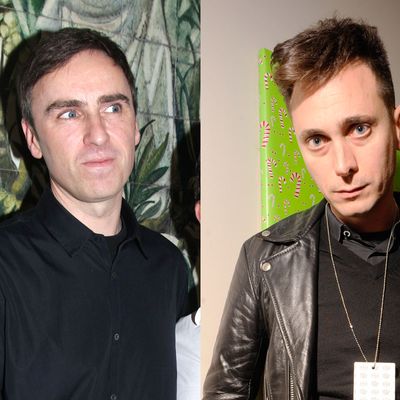 FIGHT.
Photo: Getty Images, Corbis
The world has known for months that this Paris Fashion Week was going to be an exciting one, with both Raf Simons and Hedi Slimane mounting their first ready-to-wear shows in their new positions at Dior and Saint Laurent, respectively. But because clothes themselves don't always make for  particularly satisfying gossip fodder, the fashion world has decided to add some personal drama to their stories. Surely, instead of spending day and night in their studios and slaving over every detail for the widely anticipated, incredibly pivotal collections they must show next week, Simons and Slimane are plotting each others' downfalls. In fact, Simons is probably sticking pins into a Slimane-shaped cushion right this minute, and it's likely that Slimane stuck a picture of Simons on his mood board with the face scratched off. What would fashion month be without a good ol' fashioned dust-up, after all?
But really, why have people decided to turn this week into a Hedi versus Raf face-off? Besides the usual reasons for stirring up drama (like boredom), the two designers invite a lot of comparison to one another, and it's truly rare for two fashion houses of this size to tap new designers at the same time. Here's a roundup of what the fashion press has said about their so-called "rivalry." 
The fashion press has invented this competition because of what's going on in world politics:
Blame all the recent elections, which pit man against man (or woman, in some cases), or simple boredom with the talk about austerity measures and bad job figures and so on and so forth, and the corresponding desire to drum up some drama, but either way this Paris Fashion Week is being framed, broadly, as a face-off between Raf Simons at Dior and Hedi Slimane at Yves Saint Laurent. [Vanessa Friedman, the FT]
Au contraire — Simons and Slimane are not actually rivals at all. In fact, they're kindred spirits:
Many in the fashion press have cast Simons and Slimane as rivals. But the designers, who are both 44 years old and started in menswear, can equally be seen as joint leaders of a new guard. "They're of the same generation; they're both masters of branding, totally unyielding to their mission and vision and, in some ways, at least, they share similar cultural references," said Diane Pernet, founder of A Shaded View on Fashion.  

Both came to prominence in the new millennium, took inspiration from youth culture and the streets of Berlin, not gilded couture salons, and have been credited with pioneering the skinny, wasted youth silhouette that changed the course of menswear. Some say that it was Simons who first introduced the look, though it was undoubtedly Slimane's reign at Dior Homme that made it a commercial success, bringing it into the fashion mainstream. [Julien Neuville, BOF]
They're totally rivals, and it's great for Paris Fashion Week to get all this attention out of it:
Tancrède de Lalun, merchandise manager for men's and women's wear at Printemps, said the "Clash of the Titans" — as some in Paris are calling the Simons-Slimane face-off — should "give a boost to all of Paris as a place for international fashion." [WWD]
They have too much in common not to be rivals! Let's make this as bloody-sounding as possible:
The fight between Christian Dior and Yves Saint Laurent — or, more accurately, the clash of two new titanic designers — is the story of this fashion season.

On Friday, Raf Simons, 44, steps up for the second round at Dior, after a good start in the haute couture season. Now the Belgian designer has to make a strong thrust forward in ready-to-wear for summer 2013.

At Saint Laurent Paris (where Hedi Slimane, also 44, has removed "Yves" from the brand's title), the designer is taking over a legendary house that will always be in the shadow of its founder, who died in 2008.

The fact that the two maisons are owned by rival luxury conglomerates — LVMH Moët Hennessy Louis Vuitton for Dior and PPR for YSL — only adds to the sense that this in an epic contest.
They're don't really hate each other, but they know everyone's comparing them and are acting accordingly:
"No one is going head-to-head," said Julie Mannion, president of KCD, who works on the production side of the New York–based public relations agency. "However, everyone knows they have to have their game on."

KCD also noted that its clients were careful to steer clear of events that would compete for daily press coverage with the two houses.  [WWD]
Mark your calendars: Dior shows on Friday the 28th,*  and Saint Laurent shows on Monday the 1st.
Related: 
There Were No Complaints About Raf Simons's 'Triumphant' Dior Debut
Press Won't Be Invited to Hedi Slimane's First YSL Shows
See Hedi Slimane's Saint Laurent 'Concept,' Realized in the New Shanghai Store
* This date has been corrected.