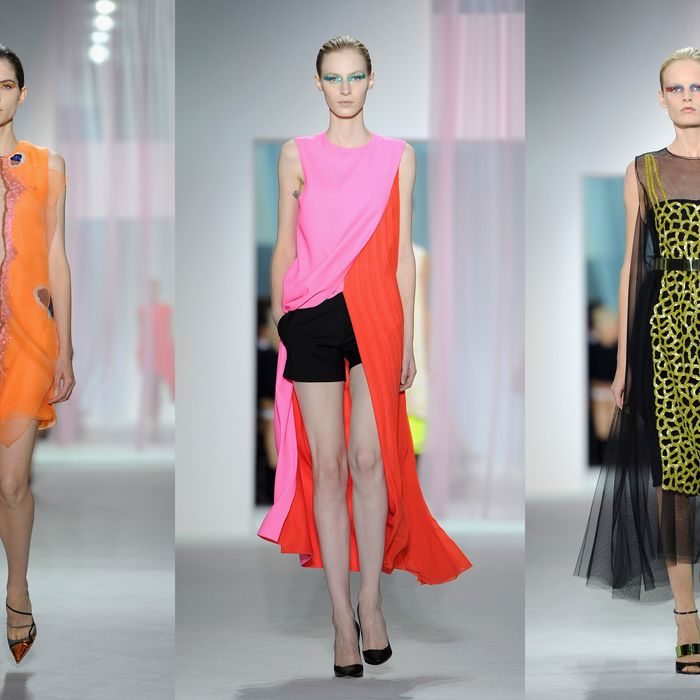 Raf Simons's first ready-to-wear collection for Dior, the first of the two most anticipated shows of the season (the other being Hedi Slimane for Saint Laurent, of course), walked today in Paris. Presented in a suite of entirely bare white rooms with sheer, wispy pink curtains swathing irregular windows cut into the walls, the setting was a striking change from the flower-studded backdrop of Simons's debut couture show. And unlike Simons's couture pieces, which were lauded for their luxe understatedness, many of the clothes we saw today were flashy and fun, with unexpected quirks like a bright red slice of fabric or a square metallic panel sewn along a hemline. Models wore neon glitter around their eyes; their feet were shod in shiny, sexy stilettos with pointy toes.
These designs were a clear answer to those who wondered how much Simons would carry over his Jil Sander minimalist aesthetic to his new position. Yes, he kept a toehold in that camp — longtime Simons disciples will be reassured by his first look, a glamorous black pantsuit with skinny trousers and an hourglass-shaped, low-cut jacket. He also turned out several very simple black dresses in the same vein, with curvaceous waistlines and flattering V-necks.
But the majority of the collection would hardly qualify as minimal. There were brightly colored sheaths embroidered with sparkly, intricate symmetrical patterns, like wearable Rorschach tests. Several dresses featured sheer tulle overlays that added a billowy, playful dimension, best exemplified by model Hanne Gaby Odiele's black dress trimmed with a shiny lime-green beading and affixed with a trailing black sheer over-skirt. Many of the fabrics were double-faced in contrasting colors, so irregular hemlines revealed flashes of neon lining.
And because you can't take over a storied fashion house without throwing a nod to its history, a number of the looks were styled with neckerchiefs tied in the back. The effect was very retro Parisian. 
Perhaps the best thing about this collection was its breadth. There was something for everyone: A long-sleeved gown with a demure scoop-neck and rich, full skirt would be just as appropriate on a woman in her nineties as it would on a teenage starlet. But there were plenty of edgier youthful looks, too, like the strapless asymmetrical tops rendered in gathered gold fabric that wrapped up the models' torsos like little Christmas presents. Where Simons's couture collection had a very edited, singular vision, this one cast a wider, more ambitious net and will surely reel in a lot of positive feedback.
Related:
See the Christian Dior Spring 2013 Collection
The Dubious Rivalry Between Raf Simons and Hedi Slimane: An Examination
There Were No Complaints About Raf Simons's 'Triumphant' Dior Debut