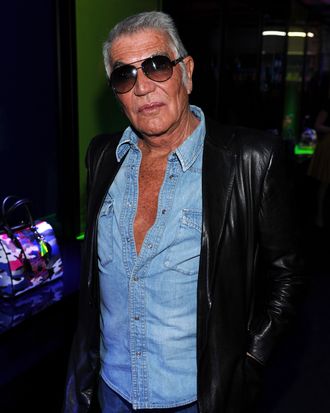 Photo: Dimitrios Kambouris/2011 Getty Images
Did you hear the news? Designers are done taking shit from you and your stupid friends! Roberto Cavalli called out the Camera Nazionale della Moda (a.k.a. Italian Fashion Chamber) on his blog for bumping back his spring 2013 show to Monday, September 24 (the final day of Milan Fashion Week) because Giorgio Armani is planning some sort of runway-slash-exhibit spectacular on Sunday night. From Cavalli's post, as translated by WWD:
Camera Nazionale della Moda limits itself to scheduling fashion shows, twice a year … The Cavalli maison has always been a member of the fashion chamber. I think that Armani is a member, too, but his every choice is perceived as an order!
And:
As usual, the Camera Nazionale della Moda is washing its hands of the situation and it will not go against the wishes of 'Little King' Armani, and therefore the problems are mine alone. What can I do? Do I stay the final day, running the risk that some foreign journalists will forego my show, or should I overlap with smaller fry, smaller brands, acting as some of my colleagues do?
Mario Boselli, president of the Camera, responded quite calmly to Cavalli, telling WWD that he "disputes" the designer's claims, adding, "If he says that the Italian Fashion Chamber only schedules the shows, it means that he completely overlooks our numerous activities also on international scene, where we are well respected." Boselli skipped the hot-dog insults, but it's probably because Cavalli signed his post "I LOVE YOU," as he always does. It's built into his blog template, Mario! You know you think he's a five-day-old meatball.