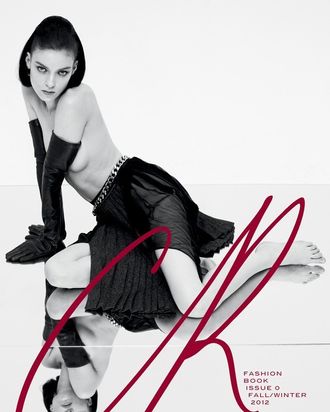 The cover of CR's mock-up issue.
Photo: CR Fashion Book
It's only fitting that the first issue of Carine Roitfeld's new magazine, CR Fashion Book, will be focused on birth and babies. It's a metaphorical statement — this new publication is her brainchild — as well as a literal one, as she became a grandmother for the first time in May. Indeed, a photograph of Carine's pregnant daughter Julia provides the background to the editor's letter on CR's new website, which officially launched today. 
Her editor's letter states:
When I learned that my daughter, Julia, was expecting, I immediately began seeing babies and new mothers on planes, at fashion shows, in New York and in Paris. Birth and rebirth all around. I became obsessed. At the same time, I was thinking and dreaming about the first issue of this magazine, which you are reading now. This issue takes rebirth as its theme and is filled with both images and ideas about birth, pregnancy, and family. The promise of youth, the force of age, and the rush of all things new. It's an escape, a fashion fairy tale. It's a dream of a better life—because fashion is meant to make us dream.
Yes, babies and pregnant ladies! Because fashion can never get enough of those. But this day also heralds yet another beginning: Carine making friends with the Internet! For CR to have a strong online presence signals the dawning of a great new day indeed.
Related:
Carine Roitfeld's Latest CR Fashion Book Teaser Shows More Graveyard Nudity
Confirmed: Carine Roitfeld's New Magazine to Debut in September 
Exclusive Video: The Making of Carine Roitfeld's New Magazine, CR Fashion Book