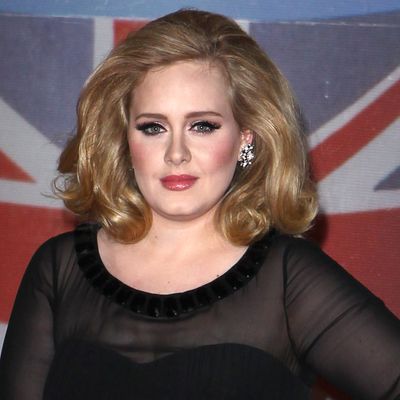 Adele: the new face of Burberry?
Photo: Fred Duval/FilmMagic
Adele is reportedly in talks to partner up with Burberry on a plus-size collection, reports British Vogue. The singer seems to have been angling for a deal with the label for quite some time now, having worn their garments on many red carpets and gushing, "I've always loved Burberry. I remember saving for three years to get my first bag before I got signed." As an international star who's landed several top fashion magazine covers, it would make sense for her to hold out for a big-fish campaign; notably, she has yet to partner with any other luxury fashion brand. (A year ago, she joked to British Vogue that if she were to be the face of anything, "it should be full-fat Coke!" Times have hopefully changed.)
Unconfirmed reports say that the 24-year-old singer, who is also pregnant and supposedly recording the soundtrack for the forthcoming James Bond movie Skyfall, has been approached by Christopher Bailey to take on the fuzzy title of "brand ambassador" and work with him on a special collection for "voluptuous customers." Hopefully, both parties' silence on the matter is just because they're finalizing the paperwork.