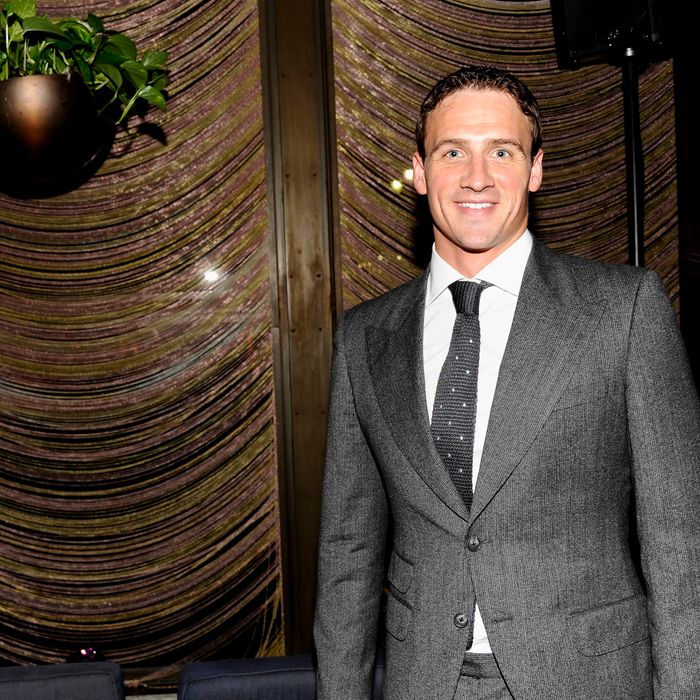 Photo: CLINT SPAULDING/Patrick McMullan
In town to cover New York Fashion Week for E!, Ryan Lochte attended a Four Seasons fête for Brian Atwood last night, where The Cut caught up with our favorite poetically minded Olympian. Asked "which shows" he would be attending, a bright-eyed Lochte rattled off a list of upcoming TV show appearances: "I know I have the cameo for 30 Rock in the morning, and after that, E! And then Live With Kelly. So I'm all over the place."
We also asked Lochte about his E! fashion-reporting gig and offered to help him practice.
Cut: Can we talk about your reporting for E? Have they trained you in how to cover fashion?
Lochte: [Shakes head no.] I mean, I'm sure I'm going to talk with them tomorrow when I meet with them and everything, and they'll give me who I'm interviewing and what I'm going to say and stuff like that, so they'll help me out a lot. I'm gonna be the one interviewing people, which is going to be totally weird. It's going to be a different role, so I'm definitely gonna — it's gonna be totally different. Usually I'm the one answering questions, not giving 'em out, so … 
Cut: So are you paying attention to how everyone asks you questions now, to see what works?
Lochte: Kind of.
Cut: Are you studying this interview while I'm doing it?
Lochte: In the back of my mind, I'm taking a mental note of this.
Cut: Do you want to interview me? You can practice right now.
Lochte: I ain't ready yet.