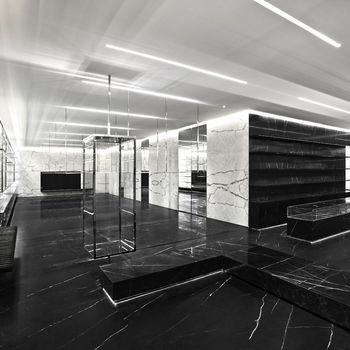 The new Saint Laurent Paris store.
Photo: Patricia Schwoerer/Women's Wear Daily
Hedi Slimane's much-hyped revamp of YSL (now Saint Laurent Paris) will get its big reveal at the label's spring 2013 ready-to-wear show on October 1. But you can get a general idea of Slimane's vision from these photos of his new store design, previewed today in WWD. The store opens in Shanghai next Tuesday and looks to be an impressive fortress of mirrors, black and white marble, raw concrete, and glass. Slimane's products won't actually be sold there until January, when his resort 2013 range is expected to be delivered (a bit later than usual, apparently due to "changes and upgrades in production, and strict quality controls," says WWD). Until then, the shelves will be stocked with items designed by Slimane's predecessor, Stefano Pilati.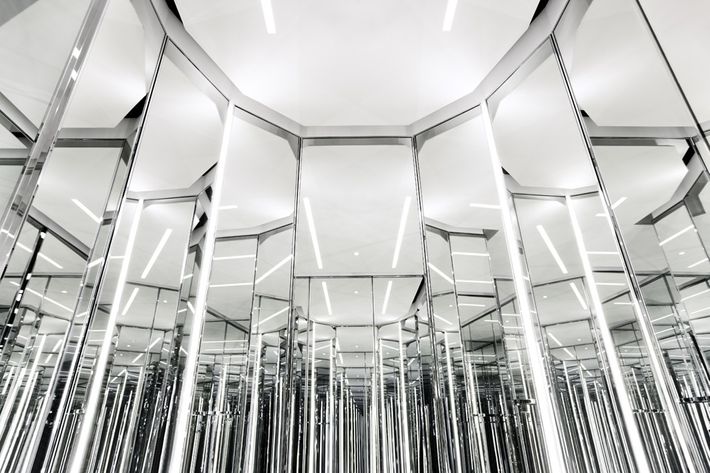 YSL president and chief executive officer Paul Deneve told WWD that Slimane's "new creative brand vision" will hopefully help YSL compete with French fashion houses Chanel and Christian Dior. Although Deneve wouldn't admit if a return to couture was on the horizon, he said such a move would be "a natural step."
But don't worry, not everything at YSL is getting an overhaul. (For one thing, the overall house name will remain the same; "Saint Laurent Paris" only applies to the ready-to-wear collection.) The label's popular Tribute sandals are sticking around, too:
Deneve says YSL carried over certain hit products like the Cabas Chyc bag and Tribute shoes, which were "upgraded and reworked." In addition, Slimane's first collection included a "very strong offering" of novelty in accessories that yielded solid orders.

He noted the rtw collection reflects a broader range of prices to appeal to "new, younger clients," with prices on some exceptional items heading higher. 
Meanwhile, the label will continue its push to open fifteen new boutiques over the next year. Deneve said that because of the company's strong sales (they returned to the black in 2010, and their revenues have remained high since), Slimane's revamp and their concurrent retail expansion shouldn't dent their profits. So, who's ready to see these fancy clothes and shoes and bags that will fill these new Slimane stores, eh?
Related:
New YSL Logo Proves Elusive at the Soho Store
Hedi Slimane's First Ad for Saint Laurent Paris Features No Clothing