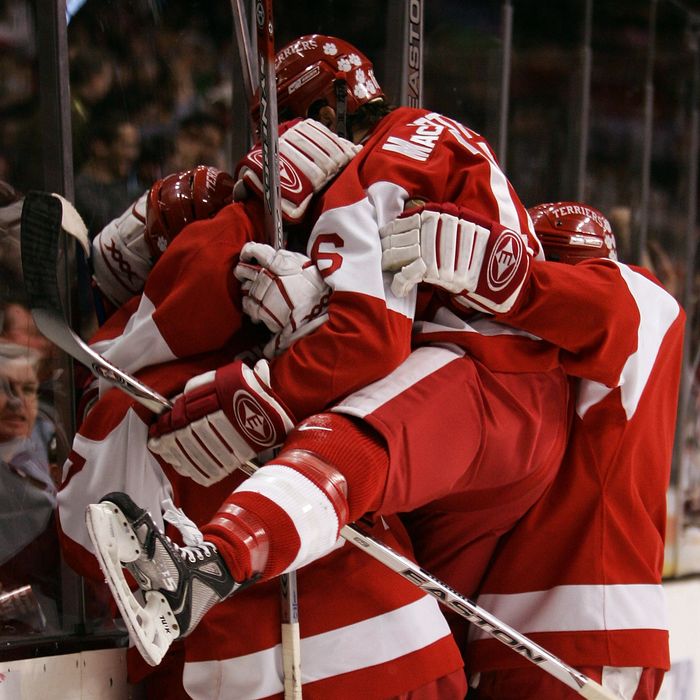 When two Boston University hockey players were accused of sexual assault in a three-month period earlier this year, university officials did the responsible thing and launched an investigation to determine whether "the culture and climate of the ice hockey program contributed in some way to the alleged actions." The report found that the players' privileged status on campus — reinforced by academic special treatment and nonstop free drinks — fostered a "culture of sexual entitlement." It failed to mention that some of some of the players don't believe in consent and love group sex. Unpublished subcommittee reports obtained by the Boston Globe have all the lurid and depressing details, which school officials say were left out of the public report because they are unverified and to protect student's identities. 
The highlights:
• "BU hockey players, surrounded by adoring fans, had 'the perception that they need not seek consent for sexual contact.'"
• The players don't understand why their teammates were charged with sexual assault. "You don't ask [permission for sex] when you are drunk," one said.
• A female student who said a player "shoved his hands down her pants at a party and refused to stop even as she was punching him" didn't report the incident because "that's just what [BU hockey players] do."
• Coach Jack Parker "told the task force he had stressed the importance of being respectful to women and advised players to avoid group sex, which the confidential report notes players engage in with surprising regularity."
• Parker professed ignorance of the 2009 NCAA championship party where "dozens of guests drank from kegs in the locker room showers and took to the ice naked to shoot pucks" ("It was insane," one attendee reported. "People were having sex in the penalty box"), but reprimanded the players for it shortly afterwards.
One player attributed the carte blanche given the team to the fact that Parker "cares too much about hurting the important players' feelings." Parker lost his executive athletic director title but will continue to coach at the same salary.