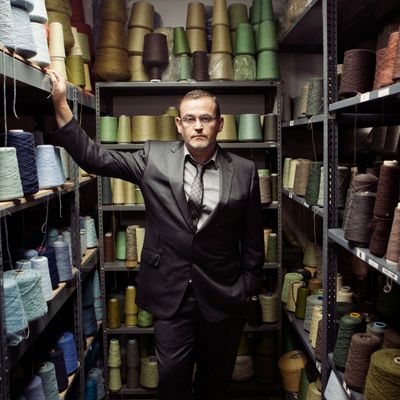 A longtime friend of the late Alexander McQueen and the current director of the School of Fashion at San Francisco's renowned Academy of Art University, Simon Ungless traces his style roots back to his siblings' closets. "At age 8 or 9 I had the same size feet as one of my sisters, and when they were out, I used to wear her platform shoes around the house," he told The Cut. "She had this amazing pair of purple platforms, and I loved wearing them." He left the platforms and his home "in the middle of nowhere" in England to enroll at London's Central Saint Martins in the late eighties, where he met McQueen and the two came of age amid the city's club culture. "You would make an outfit and go out for the night," he recalled. "It was about that dressing up, drinking way too much, and then dancing, and dancing, and dancing, and snogging some boy." After graduating, he took a job as a teacher at the university, and ultimately introduced his former classmate to his "driven and inquisitive" pupil, Sarah Burton, whom you might have heard of.
Now Ungless is getting ready for his students' spring 2013 show, to be held tonight as part of New York Fashion Week. "We're going to see a very, very serious bunch of designers," he remarked. "This whole economic thing is playing on their minds a lot. They really want to look like they can work, and that they're making clothes — clothes that people would want to wear." Keep reading for Ungless's thoughts on young London designers, the story of his encounter with pre-Hills Heidi Montag, and whether he's looking for the next McQueen.
What was your childhood like and how did you become interested in fashion?
I grew up in the countryside in the south of England, with two fashion-forward sisters, both a little older than me. I was really fascinated with them and how they dressed. One was on the hippie side of things, and my other sister was more into Northern Soul and Motown. And my mum used to make clothes for us, and I was really fascinated by how you could turn something three dimensional and wear it. Then, all of a sudden, 1977 came along, and punk rock happened, and my whole life changed. I realized that you could change clothes, and you could alter them, and you could really make things to wear. I was very inspired by Vivienne Westwood, and that whole Sex Pistols and Malcolm McLaren thing. I mean, I was only about 10, but my parents were okay with me turning all of my flares into drainpipes — stovepipes, as you call them in America — and making T-shirts, and putting zips in things that shouldn't have zips in them, and coloring my hair, and piercing my face in different places. But it was actually Zandra Rhodes who made me realize that you could become a fashion designer, because she took the whole thing that was happening on the streets and turned it into commerce, and I had more of an understanding that, Oh, you can go to school and you can learn how to do this.
So, you ended up at Central Saint Martins.
Yes. I actually transferred from architecture to fashion, and I did that without my parents knowing for a little while.
For how long?
About two and a half years. I'd go to school every day, and when I'd get off at the tube station, I went to the left with all these really boring-looking people and all the really interesting people went to the right. And I followed them one day and they were all going to the fashion school. And I was like, Oh my God, I so want to paint my eyebrows black and wear these crazy shoes. So I transferred.
And that's where you met Alexander McQueen.
Yes, we were in class together. We became close friends very early on, and I think it was a whole mix of things — that we loved the same clubs, and we loved the same music, and we loved photography. And we both really loved pushing people's buttons. We really laughed all the time. When I met him, it was our first day at Saint Martins, and as an entry project, we had to design a collection for somebody or other. It was a bit nervous-making, you know. Then, one of our classmates presented this project and it was really cute — these drawings of girls with a side ponytail. Really cutesy-cutesy. And I was amazed because it looked so ordinary and hideous. And the teacher, Bobby Hillson, who I love, she said, "Well, who's your customer?" And this person said, "Kylie," referring to Kylie Minogue. I'm talking twentysomething years ago, before Kylie had that moment. She was just this pop performer that had been on a soap, and I'd never considered that anyone would design anything for somebody so awful, or that she would be your ideal customer, and Lee and I started laughing, uncontrollably laughing, and I think we bonded. We bonded over laughing at somebody and Kylie Minogue. And that set the stage for how we were. I don't think we went out to shock people, it just happened, and when you get that reaction, it made us sometimes worse. It made us sometimes better. But it was always about doing something new — when the waistband on a pair of pants went really low and it got a reaction, well, the next season it would go even lower. All of the prints I would do would be slightly more graphic and … just making people feel uncomfortable. I still love to do that. I don't think you can change anything by making people feel comfortable.
You two took very different directions after Saint Martins. What did you think about his career?
A lot of people think that I live and breathe McQueen — that I love everything that he ever did — and that's not true at all. But when he was doing really well, and he was really doing what a designer does — which is solid research — his collections were incredible, mind-blowing, and their effect and their influence will be felt for a very long time … I didn't love it when [he] got too historical, because I don't need a history lesson from anybody, and I don't think anyone else does. But he invented things that have had a lasting effect.
And tell me a bit about your relationship with Sarah Burton.
Sarah was a student of mine when I was teaching at Saint Martins. I watched her go through the first year and was deeply attracted to her — I don't mean that in a pervy way. I was drawn to her work ethic, her sensibility, and her standing out from everybody purely because she wasn't trying to stand out. She was quiet and driven and inquisitive, and if we were doing something, she'd want to know the recipe for a print paste and, How does that work? How does that do that? And then she'd experiment with things. At the end of second year, the [students] would go out on a year placement, and she did ask me about working with McQueen. So many other students wanted it and I would put them forward for that, but it wasn't something that I really loved to do, because it was a bit of conflict of interest, putting in my students to work with my best friend. But I did make the connection and introduce Sarah, and they took her on straightaway and I think it was a great match. I know Lee absolutely adored her, and even up until a few years ago, he was really, really confident that she was handling the ready-to-wear collection, and the licensing, and all of that stuff.
How did you decide to be an educator versus a designer?
I don't think I ever decided to take that path, and luckily, I've never had to really make the decision to do one or the other because I can still design. But I was actually getting myself out of something else — I was working in a studio that I wasn't enjoying. And the head of the school from Saint Martins called me and said that there was a job coming up, and did I know anybody? And I thought, Well, I might do that for a while. I'm not very good at doing the same thing every day. Once I've done a season, I think, Okay, I'm done. I don't ever want to do another season again. And as soon as I started teaching at Saint Martins, I realized on any given day, I could be working on 20 or 30 different collections or student projects, and the whole next group are going to be completely different. Then, in about '96, the Academy of Art University asked if I would be interested in helping them build a fashion program. I have to admit, I was very interested in Northern California, but I'd never been here. I had this perception of Northern California and the San Francisco Bay that was very different from what it is — like Pamela Anderson on Baywatch or 90210. Once I'd been here a while, I realized it doesn't matter where you are teaching fashion. You don't have to be in the middle of London or the middle of New York, because there are these young people that have the same passion, and the same drive, and the same creativity, anywhere.
Do you feel like you're on the outside looking in?
No. I feel more in an environment which has its own thing going on. I feel London is kind of eating itself and regurgitating a lot of things it does. There are all these young London designers, and they all look like shit to me. I'm sorry to use that word, but I don't understand what people are talking about.
That's an interesting perspective.
If I see one more digital print on a really ugly dress, I think I'll just have my eyes removed. It's awful — it's just so not designed. I think that Jonathan Saunders is fantastic. What he's doing looks so real and so beautiful. But I think London needs to get over itself, and I think New York can sometimes be like that, as well.
Do you think fashion can be taught? Or is it innate?
No, it can be taught. It's absolutely taught. Fashion is a vast industry — we have everything here, from design, to journalism-type stuff, to knitwear, and merchandising — and it's finding that place in the industry where that person really needs to be and then teaching them the skills to do that. I don't think pattern-making is innate with anybody. I know it kind of goes against everything we see and we hear, when every actor, and pop star, and [athlete], and boring reality awfulness has their own line, and they call themselves designers. It makes life very difficult for those of us in education. I had a student say to me, "Should I go to Hollywood?" and, "I've met a producer who can turn me into a celebrity. Will I get my line quicker?" And I said, "Yeah, go to Hollywood." Because anyone who has that mentality, I don't really want them around me. Funny — that was Heidi Montag, actually. She'd already had the L.A. accent going on, even though she's a girl from Colorado.
What do you hope for in your students? Are you looking for the next McQueen? Or is it more about good instruction?
I don't think that I'm on the lookout for the next anything. I think that [designers like McQueen] come along very rarely — maybe one every 30 years or something. I'm hoping to be able to educate the students at whatever level they need to be educated, and then have them go off into the industry … If it's Donna Karan, then fantastic, but if it's Chico's or something, well, fantastic, too. Because we can all make some impact in fashion. Even if you work at some moderately priced fashion line that nobody's really heard of, you can still make good product.