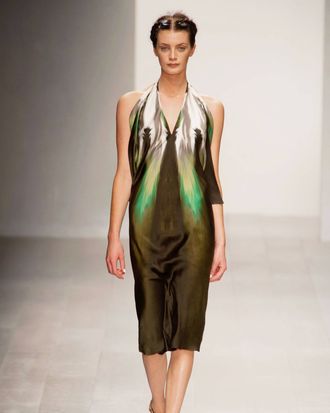 Even before the first model stepped out at Maria Grachvogel, the atmosphere felt like a change of pace from this morning's relatively subdued start. There was a serious buzz of anticipation, with long lines outside and stressed staff inside trying to make sure the right people got the right view.
Show notes talked about "the futuristic simplicity of a clean silhouette, transformed by the infusion of details and prints evoking a cosmic, ethereal beauty." Actually, they were right — there was a powerful otherworldly feel to the collection, which featured abstract prints on beautifully draped organza and silk chiffon, in dresses, jumpsuits, trousers, swimsuits, and blouses.
There were several red-carpet candidates, including the show's final piece, a crimson bias-cut dress in "stratosphere"-print satin. Grachvogel also made plenty of use of organza "sleeve scarves" as accessories — essentially one sleeve that morphs into a scarf at the other end, where it wraps around your bare arm. Having seen the sleeve-scarf in action, with one model battling to stop hers from slipping off, we feel like it's okay for sleeves and scarves to continue to be two different things.
Hair was in two neat plaits that joined at the nape of the neck, with an oil-slick effect at the sides and a mussed-up, back-combed center. According to a tweet from British Vogue's Calgary Avansino, Grachvogel had a healer backstage to relax her team. The models seemed serene and focused — next time, send the healer out to organize seating.
See the complete Maria Grachvogel spring 2013 collection here.