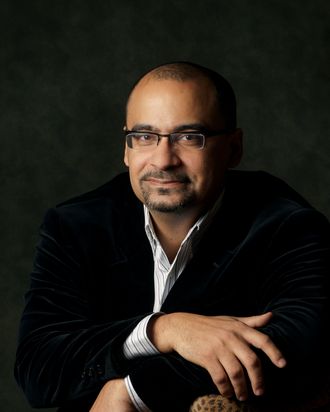 Photo: Ulf Andersen/Getty Images
Is it possible to write a fictional story about a misogynist without glorifying misogyny? That's the question being asked this week about Pulitzer Prize–winning novelist Junot Díaz, whose recent short-story collection, This Is How You Lose Her, is populated with male protagonists for whom women are objects that can be fully described by their boob, waist, and butt measurements. It doesn't help that the most compelling of them, Yunior — catch a glimpse of him in this New Yorker excerpt — is plainly Díaz's alter ego.
"There's plenty of people out there who are like, 'Fuck you. You are endorsing this shit. Your portrayal of women is fucked up,'" Díaz told the Atlantic's Joe Fassler. "It happens all the time." But, according to Díaz, his book serves to describe the sexism and male privilege that usually go unacknowledged. (He has a nice line in this Q&A about how his gender generalizations are offered up as a "a category of analysis" rather than a "banner of identity.") And if you didn't catch that, maybe you're not reading him carefully enough.
"For kind of sophisticated art I'm interested in, the larger structural rebuke has to be so subtle that it has to be distributed at an almost sub-atomic level. Otherwise, you fall into the kind of preachy, moralistic fable that I don't think makes for good literature."
In his defense, all the misogynists in This is How You Lose Her are pretty miserable for it. But for safety purposes, Díaz has a panel of women he consults to make sure he's getting it right.
"As a writer, I believe that if I have had any success, it's because I always turn to my female friends and say, 'What do you think about these women characters? What do you think? What could we do with them? What's going on with this stuff?'…There's an enormous resource for any male writer—and they're called women."
They even have "little gatherings" to discuss the flatness of female characters in his colleagues' work! (He refuses to name names.) But despite Díaz's professed intent, it's safe to say not everyone got it. Slate, for one, delighted in Díaz's characters' relentless objectification, calling Díaz "our finest describer of hot chicas — America's poet laureate of pulchritude."