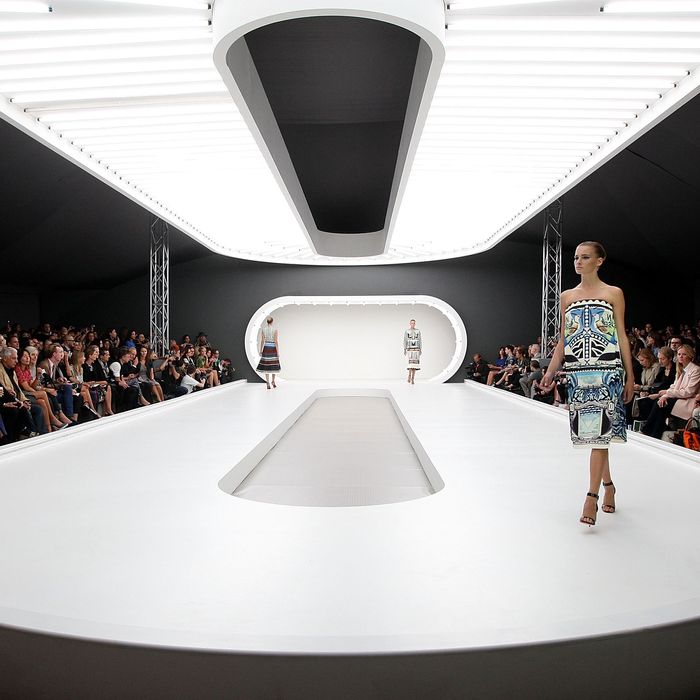 Photo: Danny Martindale/2012 Danny Martindale
With one of the most anticipated events on this season's London schedule, Mary Katrantzou easily reeled in the (low-fat) cream of the fashion crop. And folks were excited, too. The preshow buzz in Bedford Square — the Topshop-sponsored space in a central London park surrounded by old-money townhouses — was palpable, and not just because petits fours were provided. (In fact, some terrible people were overheard grumbling about how the "snack tent" took up valuable catwalk space. I would have argued back, but I was too busy stuffing my face.) 
While the runway marquee was certainly smaller than other show venues, the ascetic, futuristic white space proved the perfect backdrop for Katrantzou's latest collection — a welcome contrast to the many ornate-bordering-on-precious venues used for other shows. In particular, the halogen-tube lights highlighted the crisp, luminous clothes on display. As ever, Katrantzou's beautifully rendered digital prints celebrated the subtle, underappreciated beauty of the otherwise mundane — philatelists notwithstanding. This season's intricate array of patterns based on vintage stamps and currencies bests even her acclaimed studies in telephones and typewriters. Stamps' crenelated edges were a motif early on in the collection, allowing for more negative space (un-printed fabric — the shock of it all!) and a fun contrast between their sharp geometric lines and looser draping, a skill Katrantzou's developed quickly, and to great effect, in her last few lines.
Two tailored pantsuits at the collection's midpoint stood out for the wrong reasons, too noticeably incongruous for an otherwise relentlessly cohesive designer. But if nothing else, they marked the switch from one source of inspiration to another — Katrantzou deserves to make bank on her bank-note dresses, a stunning set of shimmering gowns that surely must also mark her debut as a red-carpet contender. Won't a Blanchett or a Swinton take a chance?
See the complete Mary Katrantzou spring 2013 collection here.