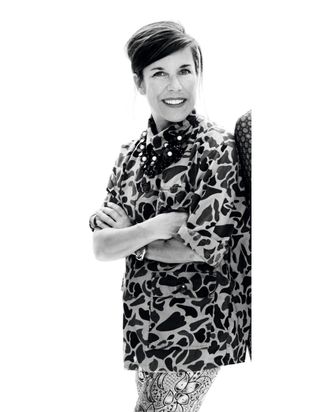 You might know Gayle Spannaus from your own in-box, where her e-mails pop up with titles like "Sporty style, made simple," "My take on black and white," or "My stripe mash-up." As J.Crew's style director, she's the driving force behind the brand's classic-yet-slightly-madcap catalogue spreads, and she provides inspiration for many of the label's signature looks. Those orange-y red lips? That's Gayle. Those shirtsleeves pushed up just so? Also Gayle, who says, "I have a very specific way that I like to roll up the cuffs so it looks like they're falling down a bit."
Barely five feet tall and a lover of crazy prints, drop-crotch pants, all things bedazzled, Gayle may seem like the opposite of J.Crew's statuesque creative director, Jenna Lyons, whose taste has become synonymous with the brand's definition. "Our style is similar, but we're so different in proportion that we never look alike," explains Gayle. "Jenna always says that she doesn't do cute. And I am cute." We caught up with the ebullient stylist over the phone last week to discuss her personal wardrobe, shopping habits, and all things J.Crew.
Is it ever funny to you that J.Crew sends out e-mails with your name on them to give other people style advice?
As soon as people find out that you're a stylist, they inevitably ask for your advice. I can never keep my mouth shut, regardless of whether I'm in a store or not, whenever I see someone trying something on. If I think it looks great I have to say it, and if I don't think it looks great … well, before you know it, I'm playing personal shopper and trying to help the person find clothes. I just have such strong opinions. So the e-mails are a great platform for me to express my two cents.
What went into the decision to have your name on those e-mails instead of Jenna's?
I wasn't part of that strategy — so I don't know! I hope it's just me doing what I do.
How does your personal style intersect with J.Crew?
My personal style is slightly more outrageous than J.Crew. I definitely mix things more dramatically than I would recommend most people do. I love wacky stuff. I love a super sporty Adidas shirt with a Comme des Garçons skirt, and then like a Dries van Noten shoe. I definitely don't advise many people to mix things to the degree that I do. [Laughs.]
Where did you first start at J.Crew?
I started my career as a freelance fashion stylist assistant — which basically meant I did a lot of steaming and ironing. And then when I heard there was an opening at J.Crew, it was to do the casting and hire the photographers and the hair and makeup artists. So, because it was an opportunity to get a foot in the door, I took it — that was nineteen years ago. I became incredibly passionate about the modeling side of it and the photography side. But I could never keep my hands out of the clothing part of it and working with the fashion editors, so it became very clear eventually that that was where I needed to be. But I was doing both the production side as well as the styling for a very long time. Eventually, the styling took over when we grew to such a degree, especially since Internet came into being.
J.Crew's styling is aimed at a more wearable, functional look. There's certainly a done-up, editorial aspect, but you've got to make it accessible, too. How do you achieve that?
We, as a catalogue or style guide or whatever we call ourselves now, we think exactly like a magazine would about an editorial well story. That's just how we're trained to think because I love magazines. Sometimes we do silly stuff, like a mad plaid girl or super-duper tattered or something like that, and those are just those funny moments. But for the most part, the aim is, Would I wear this? Like, if I saw someone walking on the sidewalk and I knew it was something that I put together in the catalogue, would I feel good about it or embarrassed by it? That's definitely the litmus test that I set for myself.
What are some fun styling lessons that you hope to impart on J.Crew customers?
I hope that I people to combine patterns and odd color combinations, but I try to translate it for them. You know, mix your textures, but don't do shiny with shiny. If you're going to do it, do it big and do it overtly so that it looks super intentional. If you're going dress in one color, be sure that the textures are different. Do shiny and do matte and do nubby and maybe add a fur and then, now you can do monochromatic. But don't do, as I call it, sticky and sticky — like don't do cashmere and corduroy. Because that's just not cute.
How do you feel that you have most strongly impacted the J.Crew look? Do you have a signature style that has become synonymous with the brand?
Absolutely. It's the tomboy sexy. I never do pretty with pretty or boy with boy. The feminine and masculine are always juxtaposed. It's girly and polished with slightly disheveled hair. If we have a pencil skirt and a silk blouse tucked in, there's got to be bed-head hair to counterbalance that. I have a very specific way that I like to roll up the sleeves so it looks like they're falling down a bit. You'll never see a perfectly rolled cuff hem on a pair of jeans. For makeup, I always say, pick a lane. It's an eye or it's a lip, but it's never both. So when I do a lip, it's hot pink or crazy orange, or it's a smoky eye and a totally pale lip.
What would you say is the catalogue's real purpose now? Particularly since everyone orders their clothes over the Internet?
We have to mail the catalogue once a month, and the hope is that it never feels like something you've seen before. It should feel familiar but not expected. That's a hard thing to do after nineteen years, for all of us. Now with the Internet, we think of the catalogue as 100 and some odd pages of advertising. We want the catalogue to be very specific about what we're trying to say for that month. Rather than trying to say so many things at once — we're wedding, we're suiting, we're tomboy chic, we're all neutral, we're patterns and patterns — we can maybe tell a very strong story directionally each month. The idea is to send people online, where the buying process is simplified.
Are there any long-term plans for the catalogue's evolution?
I think, ideally, we could focus our monthly catalogues even more strongly. Like, one month we could explode our wedding business and tell a million different stories about that. Or you could do tomboy dressing another month. Or it could be all about a country that we go to, because we travel all the time. We just got back from Chile, where we were shooting our Christmas catalogue, and the month before, we were in Japan. So, we could even tell a bigger story about those countries and make it an experience for people, with traveling tidbits and shopping destinations. As of right now, we get maybe a spread or two to tell that story. I think ideally between Jenna and Mickey [Drexler], we want to be able to tell really dominant stories, long term.
What do you think it is about the catalogue now that inspires such a cult following?
I want people to dog-ear the catalogue and say, I want to look like her, I want that. We get so many phone calls every day with people asking, "What color lipstick is she wearing on page 22? What is the nail polish color?" I wish I could say there was something strategic or cognitive in my mind that we did, but I can't say I was acutely aware of it — I just put together things that I love. I am J.Crew, and Jenna is too. Like, we do wear those bright color lipsticks. I am it to the core!
It seems that the J.Crew label invites a lot of mixing with other brands.
I definitely mix things up. I am never in head-to-toe J.Crew, but I am often in a piece of J.Crew. But it is almost always mixed with Marni, Comme des Garçons, and vintage. That's how most of us dress here. But to me, J.Crew to me isn't just the basics anymore. You can get that sequin skirt here or some of these incredible ten-ply cashmere chunky sweaters. I'm so happy that we are slowly getting away from being a brand that's just the basic piece that you mix. I think anybody can afford a piece of J.Crew. But then there are the pieces that you hope to one day be able to afford as well.
Do you have a target customer?
We don't really talk about who our target customer is, because she should be everybody. Literally from like, a baby to a 90-year-old.  We don't think, Oh, she's a 40-year-old woman who drives this car and wears this watch. We don't think like that at all.
So, let's talk about your own personal style.
It's very intuitive. It's not studied, how I dress. I have a very strong instinct for something that I'm drawn to if I walk into a store, and I buy it. I don't think about what it's going to go with. I love classic pieces, but then I love large proportions. I love a white shirt, but give me anything bedazzled and it's just crazy. I'm very experimental, and I'm eclectic and I'm emotional and fearless at the same time. I'll double up shirts, I'll button things on top of each other. I'm really petite — just shy of five-feet tall — and super-duper tiny, so proportions are always been something that I take big risks on.
Is there a particular look you've been experimenting with lately?
I'm all about a dickey this season. I found these really interesting geometric collars online, and I sewed on some buttons and jewels that I found at the flea market. And before you know it, you've got this weird Prada-esque collar that I throw under an American Apparel sweatshirt and it looks interesting. I just love to play with things that way.
How long does it take you to get dressed in the morning?
I'm up at five in the morning and, I kid you not, I go to sleep at like ten o'clock at night. So I like to take my time in the morning putting things together.
Do you have any essential tips when it comes to dressing?
I think that the most important thing that anybody can have is a good tailor. Mine happens to be the person who lives in my basement. Whatever your asset is, start to tailor your clothes to highlight that asset. When you find that pair of pants that fits you well, take them to the tailor and have him sew your other pants to the same proportions. Have him copy what works.
How do you organize all your clothes?
I live like a monk. As much as I love color and whatnot, my apartment is incredibly simple. I don't have one photograph or one picture in my apartment. I don't have one book. It's my place of solace. I keep all my inspirations at work, but my closet is insane. It's all behind closed doors.
So, an empty apartment with a crazy closet.
Crazy. I keep the doors closed so I don't see it, but it's bananas. I just love stuff. And it doesn't have to be expensive, it can be anything, just anything. It's not organized in any specific way, either. My cutest outfits always come completely spontaneously.
Because J.Crew is built so much around you and Jenna's personal style, do you ever walk down the street and see people dressed just like you, like mini-Gayles?
Occasionally, but not as often as I see mini-Jennas.
How would you say that your style is different from hers?
Our style is similar, but we're so different in proportion that we never look alike. And we definitely have differences. I like drop-crotch pants and would never wear those. And Jenna always says that she doesn't do cute. And I am cute — not in terms of wearing pink or something, you know, but just simply because of our proportions. I'm also slightly riskier than she is. If I were tall I would dress much more classically, but I think when you're smaller, it's more interesting when you take risks. My tailor always tells me, "You're very petite, but in your mind, you're very tall."
Can you remember when you first started dressing the way you do now?
My mom always took me to shop at petite stores — those horrible sections, like Jones New York petite, and the entire time I was like, This just isn't me. So I was always wearing like, boy clothes, because I could buy little boy Brooks Brothers and whatnot. Anyway, a Japanese woman ended up opening up this boutique in my hometown — Chappaqua, New York — that was just fantastic. It was a store called Indigo. And the owner was my height, five-feet tall, and tiny. But she was the most stylish woman I've even seen. And that was the number-one eye opener for me at a very young age.
Is there anything that you absolutely will not wear?
You would never catch me in a miniskirt with a pair of pumps ever. It's sexy with sexy. I like a pump with a pair of jeans or a miniskirt with a pair of oxfords, but I don't do sexy with sexy. And I can pretty much say I will never wear a chunky platform heel, because nobody can walk confidently in a chunky platform heel.
Is there anything you're really excited about for this season?
I just love the ankle-grazing pants. I think the ankle bone is just a really sexy thing. I think the ankle bone is underrated.
Is there any big splurge that you're saving your pennies to buy?
I did just buy a pair of these Fendi loafers that I've been wanting for a while. They're like a classic vachetta color, but then they have this green stacked wood heel. They're really, really beautiful. And then I do want an embellished piece from Prada's fall collection.
Was there anything else about your upbringing that influenced your style?
Having three older brothers, for sure. It made me love classic men's silhouettes and things that are faded and worn-in. But on top of giving me that tomboy masculine quality, it also helped me define my femininity.
If you were to go in a new and different direction, career-wise, what would it be?
Maybe consulting or creative direction for an entire overhaul of a brand. But you know, J.Crew just keeps growing, and I feel like there's just so much work to be done here. Plus, with the new international push — that's a whole new world for us, and I look forward to understanding a lot of new cultures.
Do you remember the first designer item that you ever bought?
Yes, I do: Gucci loafers. Chocolate-brown loafers from when Tom Ford first went to Gucci.
Do you still have them?
I don't, honestly. I wore them to the ground. I'm not a person that holds on to things. I give away a ton of clothes. I actually have a neighbor that lives below me and I will literally knock on her door and give her stuff all the time.
What was the first item you bought from J.Crew?
A charcoal-gray rollneck sweater. I bought it in about 1983, probably. I wish I still had it. I'd probably be sewing some little mink trim around it or bedazzling it so I could wear it again in an updated way.