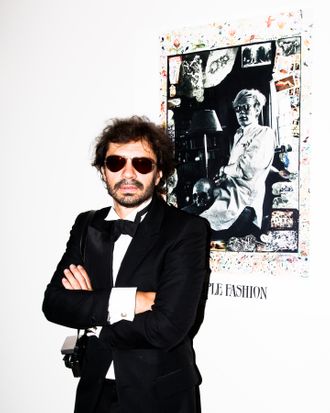 Photo: Matteo Prandoninyc.com/BFA
Adrien Brody is the first to arrive at Olivier Zahm's Purple party at the Top of the Standard last night. The dinner party invitation said 8 p.m., and he arrived at 8:15 p.m. "I assumed an 8 p.m. dinner actually meant an 8 p.m. dinner, and here I was worried I was late," Brody tells The Cut during his meal — which, after pre-dinner cocktails and oysters, is served at 10 p.m.
In an interview over cocktails, Zahm describes the reliably wild party as "not something I plan in a marketing way, it's just a get-together" for the "community of artists and friends" that contribute to his magazine. Chloë Sevigny arrives in a black lace minidress at 9 p.m. and poses for photos with Waris Ahluwalia before retreating to the less crowded end of the room, drawing a small crowd with her. At dinner, Ahluwalia is seated by Brody; Jared Leto is at a neighboring table.
Zahm keeps his sunglasses on all night. As we speak, he holds a bullet in his hand. "My friend Roberto gave me this bullet in case I want to die," he says. "When you're tired of life, you need this. Then he said, if the first bullet doesn't work, here's three more." He then pulls three additional gold bullets from his pocket and smiles. "It's just because we love life," he says, "so we need to escape it when it's bad."
He describes New York as the world's "biggest city of freedom," followed by Tokyo and Paris.
Between the appetizer and main course, Paris and Nicky Hilton show up. "This is problematic," a guest says. "I guess she was invited for irony." The Hiltons join André Balazs's table (a representative for Purple later confirmed that they were his guests) and don't stay long.
"Everyone knows the Purple party is all about the dinner," says Purple contributor Sabine Heller. "Usually the Purple parties are crazy, this one is tame in comparison — there's a lot of other things happening tonight, though; it's unusually busy." Not that this year's iteration, sponsored by BLK DNM, party is tame by any means. By the dance floor, a crowd swarms around a tall blonde who climbs onto a man's back and rides him like he's a mechanical bull. James Goldstein, an old friend of Zahm's, wears a cowboy outfit and several decades' worth of sun worshipping. The ATL Twins, in matching gold grills, are on a mission to find some drugs and a woman, and they'll share both. "We do everything together. Everything," they say, even speaking simultaneously.
When Frank Sinatra's "New York, New York" plays, everyone sings along. The same thing happens for Jay-Z's "Empire State of Mind." Around 3 a.m., the crowd begins to thin — but those still standing seem to be in it for the long haul. Until that point, the legendary hot tub in the adjoining room has remained unused. So have Olivier's bullets.