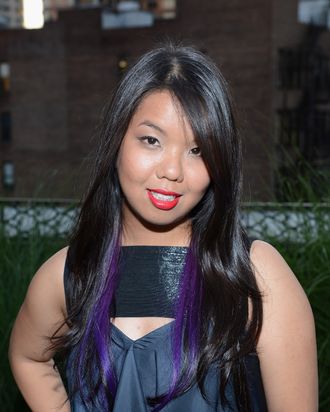 Photo: Larry Busacca/Getty Images
This summer, Nicole Richie, Kendra Spears, and this Rockaway Beach–goer embraced dip-dyed My Little Pony pastel hair. The Cut's senior market editor, Diana Tsui, recently gave the dip-dyed look an autumnal tweak by coloring her ends a deeper, darker violet (which she debuted at our relaunch party). "I was obsessed with colorful hair the moment I saw Charlotte Free walk the Richard Chai runway back in February 2011," she says. Privé Salon's Andrew Guerrero used an ombré technique on the underside of her head, so that the Manic Panic–dyed sections would only sometimes peek out from Diana's otherwise jet-black hair. It's so subtle that it's easy to miss at first glance.
Andrew Guerrero for Privé Salon, from $150, Privé Salon.