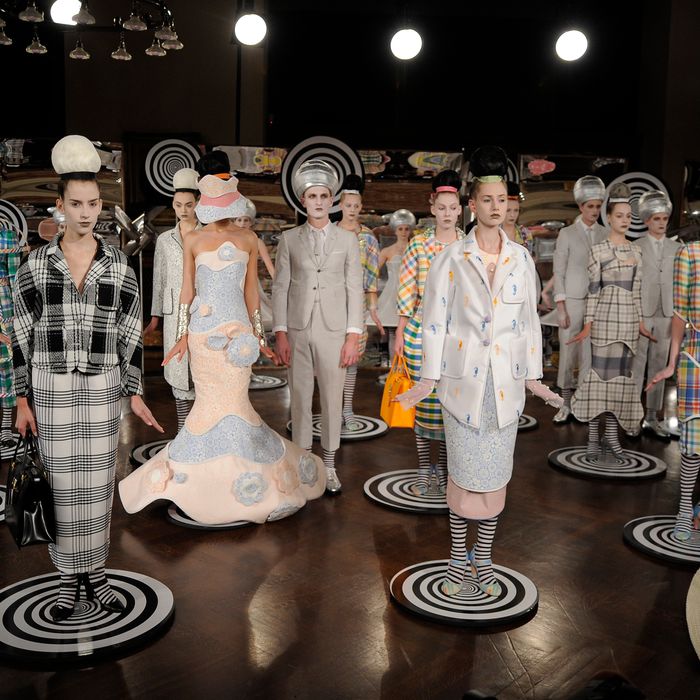 Tom Browne's finale.
Photo: Karl Prouse/Catwalking/Getty
Rather than holding a run-of-the-mill fashion show or presentation (because God, who wants to see another one of those old things), Thom Browne traditionally holds an intricately choreographed theatrical production. Today's took place at the New York Public Library — as it has for the past several seasons — and featured an extensive cast of male and female models, plus an added bonus: a fleet of ballerinas, who wore striped hoop dresses and danced en pointe before a semicircle of wavy funhouse mirrors.
The show started with the male models, clad in Browne's signature shrunken, ankle-baring wool suits and black-and-white striped socks as well as spherical silver headpieces, who cleared off to the side (one was beating on a xylophone that was strapped to his shoulders). Then the female models began their halting procession, taking careful footsteps in striped stockings and Mary Jane heels. The clothes themselves were a witty combination of morbidity and Lilly Pulitzer: prints of spouting whales also featured Cetacea skeletons, and a dress made of silvery rope coiled up the model's body and around her neck. In keeping with the nautical, Nantucket-meets-funeral theme, the palette was a mix between pastels and somber blacks and grays, and one girl's face was covered in a black veil.
Once all the models had navigated their way onto the floor, they positioned themselves on circular black-and-white swirly platforms, where they stood still while the male models rejoined them and took turns spinning them around (very slowly and cautiously, for everyone's sake) one by one. The show culminated with a swelling cacophony of piano music as they all stood side by side, their wrists flexed like dolls, as the audience applauded their performance.