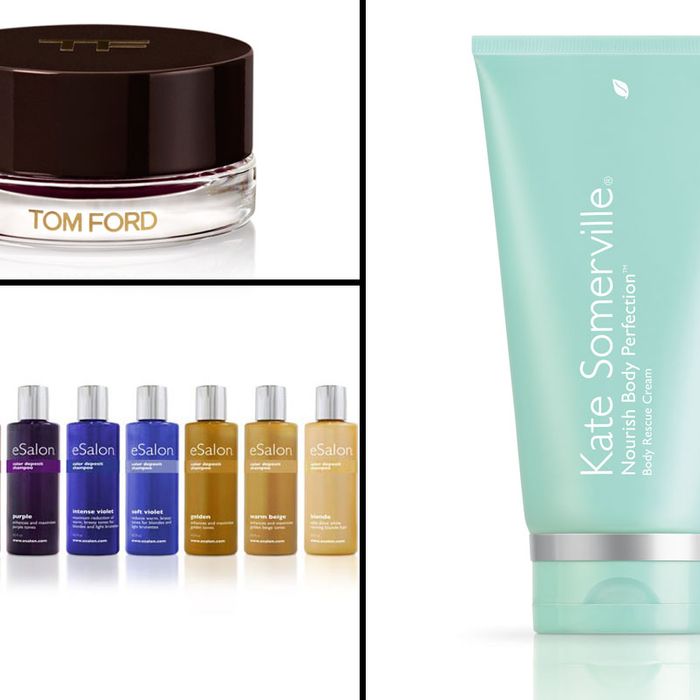 Each weekend I will be testing out a few of the latest beauty products to hit my desk. Here, the first round of results:
Tom Ford Plum Absolute for Eyes ($35, Neiman Marcus): With a name like that ("for eyes"), one might assume this product should be applied all over one's lids. Lesson learned: This is not to be used as an eyeshadow. While the texture of this rich, wine-colored product is described as "gel-like," don't be fooled. It dries very quickly and it's nearly impossible to blend. "Train wreck" and "bar-fisticuffs aftermath" were some of the words that came to mind after I dragged the shade across my eyes and looked in the mirror. You're better off using it as a liner (use a thin brush to apply), which will add a nice hint of color, especially when paired with a smoky, chocolate-brown palette. The shade, by the way, is spot-on for this season.
eSalon Color Enhancing Treatment ($9.99, eSalon): This color-depositing shampoo comes from eSalon, an online-only service that custom-blends at-home color. It's formulated to add oomph to red, brunette, or blonde-dyed hair (there are 22 hues available), and the company claims that its mineral-based pigments will even give uncolored hair (like mine), a little kick with repeated use. I gave myself two treatments in two days using the Golden hue to see if the formula would accentuate the light brown highlights leftover from summer in my dark hair. While the results seemed disappointingly nonexistent under my bathroom's lighting, under the overhead florescents in the office bathroom the lighter pieces around my face indeed looked more golden. If you need proof, I'll meet you in New York Magazine's ladies' room. 
Kate Somerville Nourish Body Perfection ($45, Kate Somerville): This cream is what you're going to want for the moisture-sucking cold months ahead. It's thick (loaded with shea butter), but unlike similar creams it glides over skin evenly (great spreadability, if you will) and absorbs quickly (no dry-time necessary before putting on those skinny jeans). The lavender scent is light and spaaahlike. While the company claims some anti-aging properties as well, a weekend is much too short to determine any firming results. What I did notice immediately, however, is that the cream leaves behind subtle light-reflecting particles that kind of make you feel like a unicorn or a fairy. Distracting, unless you like that sort of thing.