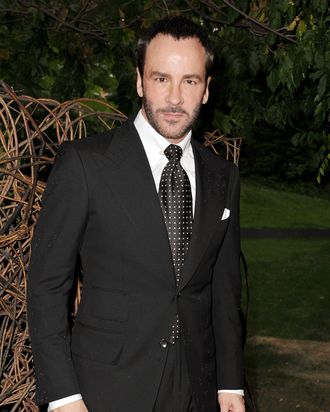 Tom Ford.
Photo: Harold Cunningham/2012 Getty Images
As usual, we can't see any of Tom Ford's new collection, but Cathy Horyn did her best to describe the clothes, which were shown yesterday in London. Apparently he's found a happy medium between his poorly received spring 2012 collection and the subsequent swing back to safety:
The collection on Sunday felt completely contemporary, yet still in the Ford glamor mode. The key looks for day were his signature pencil skirt or a pair of biker shorts with a minimalist top, fuzzy sweater, or a semi-fitted hoodie. The biker shorts just seemed fresh again — thanks to Mr. Ford's polished treatment.
Yep, more fancy biker shorts! There were also floor-length skirts with high slits, fancy silk hoodies for evening (the new capes, it would seem?), and heels covered in tiny gold spikes. Sadly, there were no meat metaphors in Horyn's review, but she did make this great comparison:
Also worth checking out is his new flat shoulder bag in patent-leather and other skins. An extra-large one in black patent makes quite a graphic statement. Perversely, it does suggest a Hefty bag.
Said accessory will surely cost some equally perverse amount of money. So, disposable-looking bags are in for spring, it would seem.