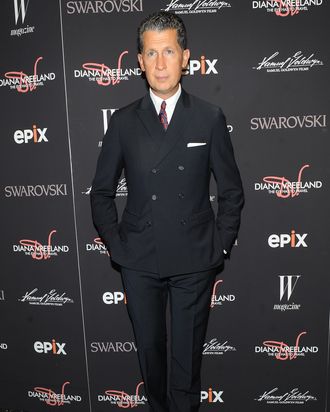 Photo: Brad Barket/2012 Getty Images
At a party for the premiere of Diana Vreeland: The Eye Has to Travel on Saturday, W editor Stefano Tonchi ruminated on "the cruelty, the violence" of running a magazine.
Though he declined to discuss who should replace Sally Singer at T, Tonchi did tell The Cut "how complicated it actually is to put out a magazine":
To actually create something that is not only financially independent but creates a profit, that's a complicated game. How do you do that? And sometimes you're in a situation where you are the No. 2, and you're sheltered by the cruel reality of putting out the magazine. It can be a very cruel game of profit and loss. Sometimes, the No. 2 becomes the No. 1, but they had a very wonderful life protected by the cruelty, the violence, really, of the financial game to keep the magazine running and creating bloodlust. If you don't create bloodlust, you're dead.
He cited Anna Wintour as a prime example of an editor who "knows how to play." Meanwhile, of the editorial shake-up at Cosmopolitan, Tonchi laughed, "I've never been a Cosmo reader. I'm not their target." He then segued into a discussion of the "crisis point" of Internet aggregation:
It's really, really difficult to keep a magazine running these days. You're challenged every day not so much from the Internet, per se, but aggregating and people taking the stories you create and they can use. That's a kind of cultural sharing and it's coming to a crisis point. You cannot stop the process — people have tried and it doesn't work — and there need to be more rigid rules, and you need to educate the audience about what is quality, what is original. A story of a story is not an original story, and that's an important distinction.
Go forth and aggregate this story, now.