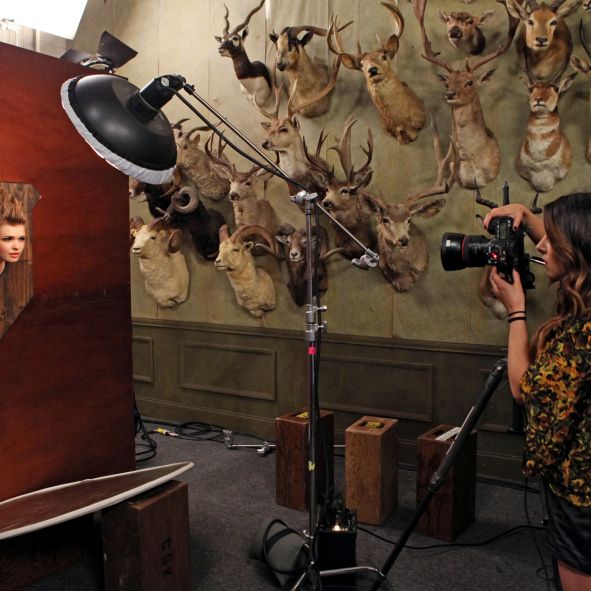 Shenae Grimes on the set of America's Next Top Model
Photo: Scott Alan Humbert/The CW Network, LLC.
Episode two of the newly revamped Top Model proves that despite all the changes made to cycle 19, the show's usual shenanigans are still alive and well: The girls do a taxidermy-themed photo shoot in which they pose as mounted heads. What this really has to do with the cycle's "college" theme remains to be seen, but in Tyra's universe, this gimmicky challenge almost passes for mundane.
The episode starts off with Tyra coming to the Top Model house (the girls greet her by screaming and jumping on furniture, which they'll hopefully continue to do all season) to explain even more of this cycle's many, many changes. First up is the Tyra Suite, where the model with the best photo each week will be allowed to stay. I've been skeptical about some tweaks in this cycle, but I actually like this one. It gives the winner something tangible to lord over the other girls and that's going to make for some excellent TV.
Tyra also explains that because this is the college cycle, the winner of each challenge will get a $10,000 scholarship, but she'll only be able to keep that scholarship if she wins the entire competition, which even by reality television standards is sort of awful, considering that some of these girls are legitimately destitute. I'm hoping that the eliminated girls who don't get to keep their scholarship checks won't be forced to run them through a paper shredder or something on their way out the door.
This week's challenge takes place at Club Eden in Hollywood, where challenge judge Jonté has the girls walk a runway in the middle of the club. It's not exactly strip-club-y, in that there's no pole, but then again, there's a hoop suspended from the ceiling and a column in the middle of the runway, so feel free to draw your own conclusions. At any rate, Yvonne and her high kicks win the challenge and the Tyra Suite, and it's nice to see one of the curvier girls on top right off the bat.
The major source of this week's drama (aside from a brief skirmish centered around who acted the most stripperlike at the challenge) comes from Victoria's homesickness; at one point, she says her mother is selfless to her in the way a man could never be, so she'll never need a boyfriend. She's extremely sheltered — she was homeschooled and now goes to one of the most conservative colleges in the country — so I'm assuming she doesn't have the best-ever sense of what you might not want to say out loud on reality television.
Shenae Grimes (who's the star of 90210 — way to get those cross-promotional appearances rolling before fall premieres, CW!) shoots the aforementioned taxidermy-themed photo shoot on a stationary camera set up on a tripod. It's our first chance to really see Johnny Wujek do his thing as Jay Manuel's replacement, and he's a little more reserved than I'd expected, but his rapport with the girls is warm and compassionate, and he gives some nice concrete feedback.
At judging, the girls are given actual scores, on a one to ten scale. It's one part Olympic judging and one part Regina George's burn book in Mean Girls, but it's nice to see the girls get concrete scores rather than vague encouragements about being more fierce. Bryanboy makes his first appearance, and it's still confusing as to why "the voice of social media" needs a dedicated persona, but he's pulling off a pillbox hat quite nicely, so I'll allow it. High points of judging include Tyra telling Kiara that she loves her picture but only because "Mama and Daddy created gorgeous cheekbones on you"; the continued abuse of the word "model-ness"; and Tyra telling Laura, "Your eyes have intensity, yet at the same time there's a blankness, as if your soul is gone!"
In the end, Leila comes out on top for fiercely channeling her inner roadkill unicorn (no, seriously). And Jessie, the sweet USC architecture student, heads to the limbo where they're storing the eliminated models until one has a shot to make it back into the competition.
Next week is makeovers! According to the teaser, this cycle girls can opt out of this step if they want to. But are any of them really going to tell Kelly Cutrone no to her face?