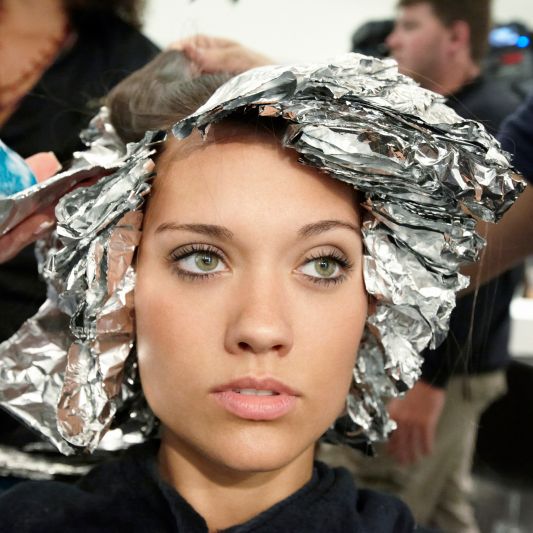 Makeover!
Photo: Chris Frawley/The CW
It's makeover week! Things kick off with the girls anxiously speculating about who will have her hair chopped off (although perhaps the wider concern should've been whether anyone will get a gap filed into her teeth this season). The girls are sent to Christophe's salon in Beverly Hills, where Kelly and Johnny are waiting for them with the looks that Tyra's planned for them sealed into oversize pink envelopes. This season's twist? The girls are allowed to opt out of their makeovers, but only if they do so before opening their envelopes. The only two to decline are Harvard student Maria and mom-clinger Victoria, who says that cutting her very, very long hair would be a betrayal of her Cherokee heritage.
Both Tyra and Kelly sit down with the two conscientious objectors, and Victoria cries and regrets her choice while Maria points out that since she was given the option to forgo the makeover, no one should be mad at her for taking it. This leads to a spectacular Kelly Cutrone takedown, where she calls Maria's modeling agency in Boston a "mosquito," accuses her of being committed to defending medioctrity, and says, "I'll give you $10,000 for every national campaign you've shot right now. NONE. Thank you." The rest of the makeovers go by in a blur of partially shaved eyebrows, and as always, it would be nice to have the makeover episode a tiny bit later in the series. It's hard to get the full impact when you barely remember what the girls looked like to begin with and the before/after montage goes by so quickly.
Back at the house, the main source of drama is an argument over who is a bitch, who is a real bitch, and who is a real-ass bitch. (Believe it or not, it makes even less sense when you watch it firsthand.) Kiara starts it by telling Allyssa to tell Darian to be quiet in the bedrooms after midnight — last week, Kiara said that she felt entitled to tell people what to do because she's "a natural leader" — and everything devolves from there. Hopefully one of the girls will develop some sort of thesis on the bitch to real bitch to real-ass bitch continuum before the season's end. This is the college edition, after all!
This week's photos are shot by Tony Duran and, as hinted at by P'trique (who is now appearing in every episode as live-action Tyra Mail), it's a nearly nude shoot with Rob Evans. Duran is a really dynamic photographer and gives the girls a lot of concrete feedback, as does Johnny this week (while wearing a baseball cap that says coach), and there are multiple shots of the girls eating food, so the shoot seems like a success all around, until Maria announces she wants to go home. Johnny has a really kind talk with her, reminding her that all the judges see her potential and Tyra in particular is a fan of her (especially as a Harvard semi-alum), but Maria says tearfully that while modeling might be a thing she wants to do, it's not the thing she wants to do.

Then it's off to the judges' panel, where Tyra runs down the list of prizes for this season's winner, which includes the opportunity to be the face of the ad campaign for ANTM's first-ever signature fragrance. Prestigious! Laura's up first, and Rob announces that he looks like a Greek god in her picture. He's sort of kidding, but he's also completely serious. (Just for the record, hers is my favorite photo of the week, and I'm surprised she wasn't the first or second called out.) Other high points of judging: Kelly referring to Kiara as "some sort of ninja Pilates instructor"; Tyra admitting that Destiny's makeover was too harsh and promising to make it right; the declaration that Allyssa is the love child of Jennifer Lopez and Megan Fox; Bryanboy's somber reminders to the girls that their fans are counting on them; and then there's reliable weeper Victoria, who tearfully apologizes to the judges' panel for forgoing her makeover and is awarded two snaps in a circle from Tyra.

In the end, Victoria's called out first, and Darian's sent home (or at least to webisode purgatory), which is sad given how badly she wanted to be there and how gamely she responded to having the cornrows she'd had for years hacked off. 

Next week, Tyler Perry guest-stars! No, seriously.