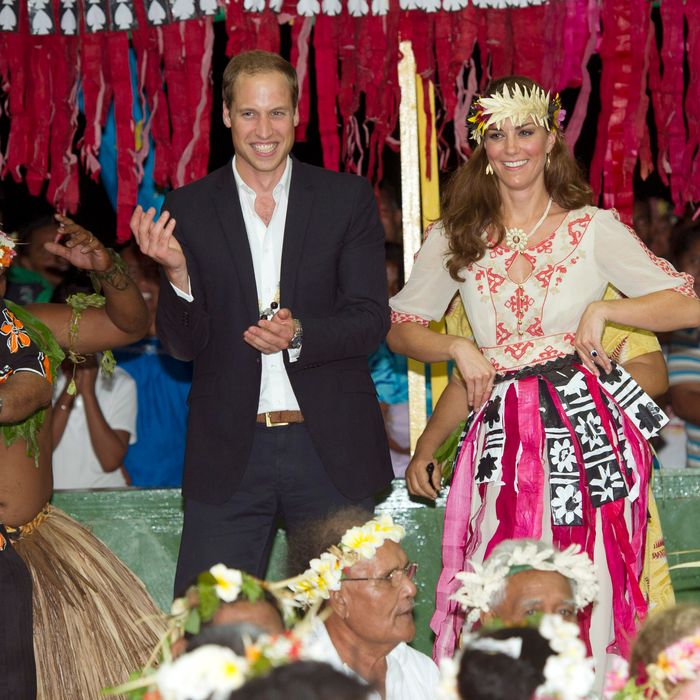 Victory dance!
Photo: Arthur Edwards/Pool/Getty Images
While the royal couple communed with the topless citizens of Tuvanipupu Island yesterday, their lawyer, Aurélien Hamelle, was hard at work back in France, where he finally emerged victorious from a civil court hearing in Nanterre. The results of the ruling were as follows, via the Telegraph:
• The French magazine that initially published the scandalous photographs, Closer, has been ordered to hand over all files of the pictures to representatives of the royal couple within 24 hours. For every day's delay, they will be ordered to pay a €10,000 fine.
• Closer's publisher, Mondatori Magazines France, faces a €2,000 fine in damages.
• Closer is not allowed to reuse the images in print, on its website, or in any sort of digital form, nor are they permitted to sell them. The penalty for selling them is €100,000.
While this ruling ought to help with immediate damage control, it has no bearing over the magazines that are already in circulation. (The royal couple has not requested that these issues be pulled from shelves, as "the damage has already been done," according to Hamelle.) However, Closer "promised" in court not to print any more copies of the offending issue, and should they get sneaky and do so anyway, the civil court awarded Kate and Will the right to demand a complete recall "within 24 hours."
Meanwhile, criminal court proceedings are under way as of this morning. A French prosecutor has begun a preliminary criminal investigation into the photos, which could determine whether they constitute a criminal breach of privacy (in which case, the responsible parties could face jail time).
The pictures were taken in Provence by an unnamed paparazzo with a powerful zoom lens camera; although the couple was staying at a private residence, the photographer was standing on a public road about half a mile away. While the civil court stated that Kate and Will "could legitimately suppose [the residence] was sheltered from prying eyes" and that the violation of their privacy was "particularly intrusive," it has yet to be determined whether there's enough evidence to press criminal charges.