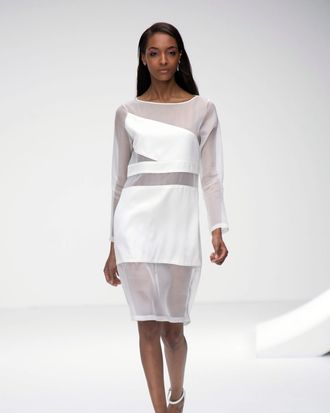 The space-age-y Topshop show venue made quite the first impression today. Huge white globes were floating high among the trees of Bedford Square Gardens, emitting an unearthly glow, and a white bar area was packed preshow with the young and the beautiful — everyone scouring the crowds for famous faces and opportunities for street-style snaps.

The show tent was just as imposing: the twenty-first century via the sixties, with spaceship lighting and a curved white catwalk in the shape of a U, for Unique, of course.

The front row included many of the faces seen at yesterday's House of Holland show — Leigh Lezark, Nicola Roberts, and Pixie Geldof, plus Daisy Lowe smiling cheerfully at a polite Olivia Palermo. Anna Dello Russo wore a tall purple hat, which must have made her popular with whoever was sitting behind her.

On the other side of the catwalk, the Cut was sandwiched in by British Vogue–rs. Fashion editor Francesca Burns spent the day in a fabulous fur jacket, despite the temperature being in the mid-60s. The unseasonably good weather in London this week is a bitter disappointment for those who were hoping to show off savvy winter purchases.

With Jourdan Dunn's first stride onto the runway in a striking white dress, we were off. As with this morning's Preen collection, sheer paneling was all over the show, and the clothes also had a similarly serious palette for spring/summer, with the dominant colors being black, white, and blue. Highlights included a textured cocoon jacket, trouser suits (one in monochrome floral print), and clutches so big that they were folding in half in the models' arms. There was also plenty of sparkle, with silver sequined panels paired with the sheer.

But in a way, the icing on the cake happened online. The label's digital team produced a live-stream allowing viewers to buy selected items from the collection while they watched. The show had more than 2 million visitors within less than two hours, and many of those viewers made purchases, too. A printed panel dress was among items that sold out within an hour.

It was an exciting indication of what could be the future of Fashion Week. But those who are slower on the mouse may wonder: If you're going to start selling before the show is over, then what's going to be new when spring comes?