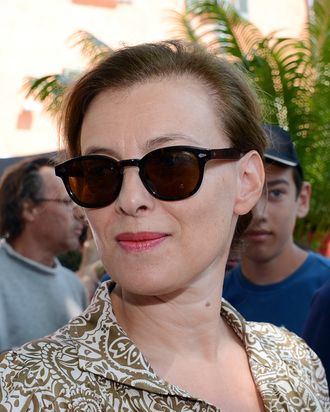 Last month, lawyers for France's "first lady" sent letters to several tabloids, telling them not to run any photographs of her and François Hollande in their swimsuits taken by paparazzi wearing Floaties while they were on holiday together. Both VSD and Voici decided to put the images on their covers, while Paris Match — Trierweiler's place of employment — printed them inside of the magazine. And on Wednesday, a Paris judge at the Tribunal de Grande Instance ordered VSD to pay Trierweiler 2,000 euros (about $2,500) "for breaching her privacy and image rights," according to the Telegraph. She was seeking 30,000 euros (about $37,900), which is a difference of 28,000 euros (beaucoup de dollar bills).
Like we did, VSD claimed that French presidential couples taking a dip with telephoto lenses close by, and eventually ending up on the newsstand, is a time-honored tradition (VSD's exact words: harmless tradition), and since Hollande says he's so normal, he should uphold the tradition! Or something. From the paper:
The judge ruled that it was neither "necessary for legitimate public information" nor "harmless", as Miss Trierweiler had never posed in a bikini before. She drew the line at shorts. Nor was it an illustration of Mr Hollande's "normalness".

But she justified the relatively small fine by saying Miss Trierweiler "could not be unaware of the risk of having her photo taken on the beach of the head of state's official residence, which, admittedly is not open to the public but which is visible from the sea".
Not to get all feelings on you, since that's not my bag, but Trierweiler deserved no euros (about zero dollars), because she reportedly thought she looked fat in the pictures. What kind of message is that sending to people like little ol' me? That your self-hatred can win you a small shopping spree? Well, I guess that's not that bad.