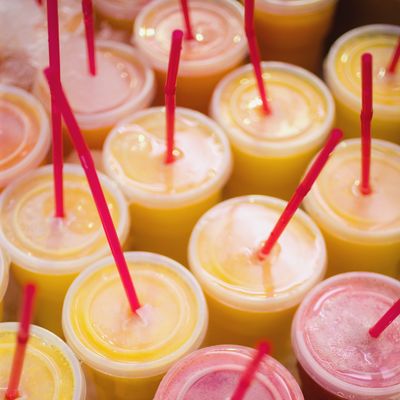 It's hard to live in a society without internalizing its beauty norms, especially if your slice of humanity is a luxury condominium for the well-bred and well-maintained on the Upper East Side of Manhattan. One hospitable new development on the East River is helping newcomers conform with its own custom organic juice cleanse. Organic Avenue, a juice company patronized by celebrities, has designed a one- to five-day juice cleanse just for residents of 515 East 72nd Street, according to a report in DNAinfo.
"We wanted to provide 515 owners with an all-juice cleanse that would flood their bodies with nutrients," Organic Avenue owner and founder Denise Mari told DNAinfo. In addition to this exclusive and expensive means of self-deprivation, the condo boasts a half-acre private park, a yoga sanctuary, a 56-foot indoor pool, a climbing wall, and spa.
What does it take to make a body fit for this Xanadu?
 The cleanse, called Love*515, contains:
"A chlorophyll shot (believed to fight infections and heal wounds, according to the company's website); a 14 oz. grapefruit juice; a 14 oz. 'master tonic' (purified water, lemon juice, coconut sugar and cayenne pepper); a 14 oz. 'Green LOVE*' (a blend of greens, pear and lemon); a 14 oz. 'Veggie Vibe' (mix of carrots, beets, spinach, swiss chard and more); a 14 oz. cucumber juice; and a 14 oz. almond 'mylk'."
Before considering moving into one of the 30 or so remaining units, keep in mind that the effects of low blood sugar on the brain include impaired judgment, nonspecific dysphoria, moodiness, depression, crying, exaggerated concerns, negativism, irritability, belligerence, combativeness, and rage. A neighborly plate of brownies might be well-received.