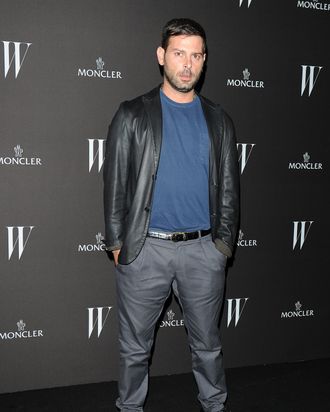 New Ungaro designer Fausto Puglisi.
Photo: Jacopo Raule/Getty Images
French fashion label Emanuel Ungaro has made several attempts to sputter back to life over the past decade, including that ill-fated run with Lindsay Lohan at the helm. Things were actually looking up when the label hired designer Giles Deacon and well-respected CEO Jeffry Aronsson last year, but then they both quit by the end of 2011; the label hasn't shown a collection since. Many chalked up its multiple relaunch failures to management problems, the Lohan hangover, and the innate difficulty of continuing a brand without its namesake, and it seemed like the now-dormant label would remain so.
But apparently there's life in Ungaro yet. The fashion house, which is owned by San Francisco–based tech entrepreneur Asim Abdullah, announced today that they've partnered with Italian conglomerate Aeffe — the same one behind moderately successful international labels like Alberta Ferretti and Moschino — for another stab at revival, WWD reports. They've tapped young Sicilian designer Fausto Puglisi as the new creative director and plan to return to the Paris show schedule for fall 2013. Judging by Puglisi's prior work — he's perhaps best known for designing ram's-head masks for Madonna's MDNA tour costumes — the collection will be fun to see at the very least.
Related: 
A Timeline of Lindsay Lohan in Fashion, From Miu Miu to Ungaro to Philipp Plein
Ungaro's New CEO Has Reportedly Quit Already