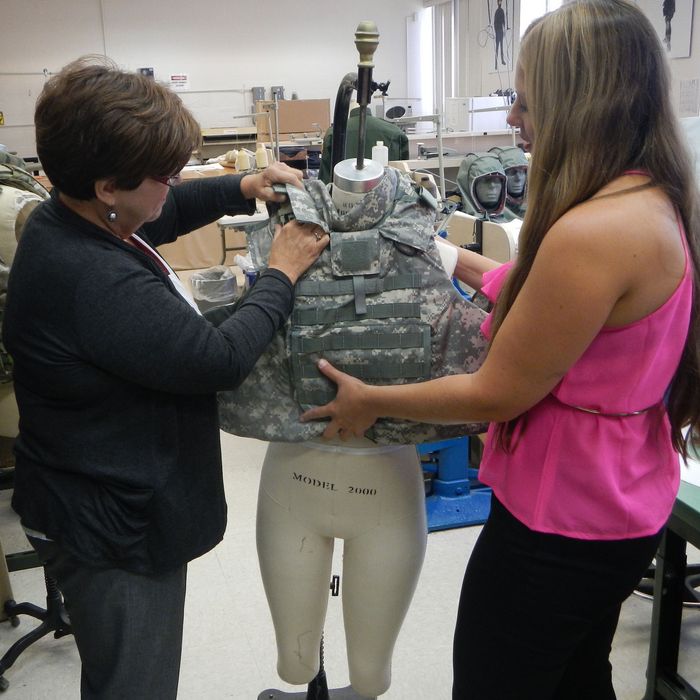 Photo: Courtesy of U.S Department of Defense
Female soldiers at Fort Campbell, Kentucky, deploying to Afghanistan later this year will be the first to do so wearing the new and improved outer tactical vest designed to fit women, the Department of Defense announced earlier this week. The development sounds much needed and long awaited. According to Lynn Hennessey, lead designer for the female body armor prototype, the men's extra-small was too big for 85 percent of women, leaving soldiers vulnerable where it gapped under their arms and leading to bruising on their hip bones where the side plates dragged. "And when they were sitting down, it was riding up their chins, because the torso was so long."
And here you thought your fancy shoes were uncomfortable.
 "Females are not small males," said Beverly Kimball, project engineer for female Army aviation combat uniforms also being developed. "We have specific proportions that require designs for fit and function for uniforms as well as equipment." There are now eight different women's sizes in two lengths that take into account stuff like waists and breasts and hip, which is only logical given that, according to Time, there are now 200,000 women in the military (about 14 percent of the total forces).
Soldiers testing out the prototypes are part of a "female engagement team" that will interact closely with Afghan people, particularly women, according to a Department of Defense press release.