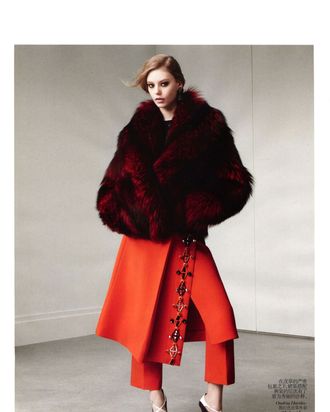 In May, the editors of the nineteen international Vogues laid out their six-point Health Initiative, to take effect in the following month's issues. Of note:
1. We will not knowingly work with models under the age of 16 or who appear to have an eating disorder. We will work with models who, in our view, are healthy and help to promote a healthy body image.

2. We will ask agents not to knowingly send us underage girls and casting directors to check IDs when casting shoots, shows and campaigns.
But last week, the Internet, which holds Vogue to its word (I'm presently sitting here with my weave pulled into a ponytail over my face because I learned "Hair is the New Makeup: Fall's Most Fearless Trend" from my September copy of Vogue America) pointed out that the coterie of magazines recently cast two girls younger than 16: Ondria Hardin, age 15, pictured in August's Vogue China, and Thairine Garcia, 14, who shot a Vogue Japan editorial said to be for the glossy's December issue.
Apparently, Hardin's story was put together before the Health Initiative announcement, and, "It happened under our radar, and we are truly sorry. We will make sure it doesn't happen again," editor-in-chief Angelica Cheung said. Also sorry: Condé Nast chairman and CEO Jonathan Newhouse. He told WWD, "The Health Initiative banning underage models is very serious, and we will reinforce it. I apologize for the error that took place in China. We will do everything possible to prevent future errors." While there's no direct mention of Garcia in WWD's article, Samantha Conti writes:
Separately, Japanese Vogue said it unwittingly used an underage model in an advertising promotion photo shoot set for the December issue. The promotion has since been pulled.
I guess no one's sorry about that.