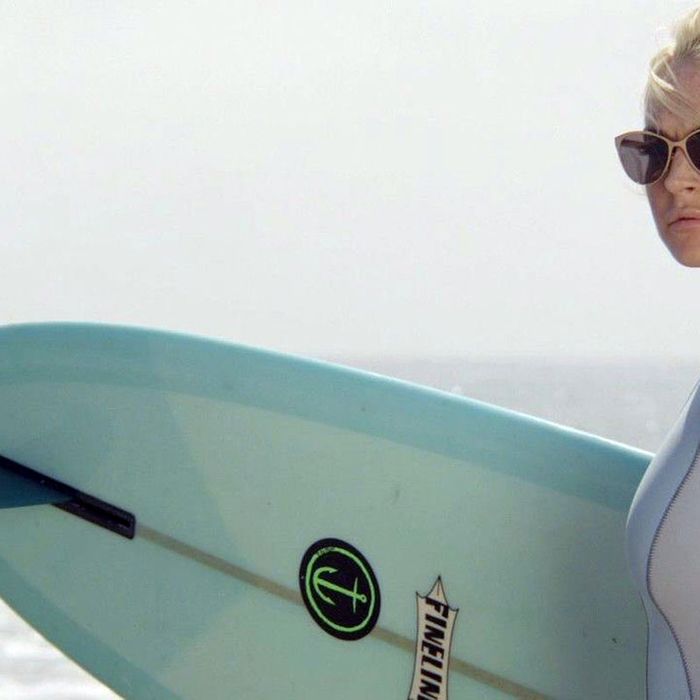 Last night, at Richard Phillips' steamy Gagosian Gallery opening, I was waiting for Lindsay Lohan. Would the actress — whom Phillips has immortalized in larger-than-life portraits and short films like "surf noir" First Point — make an appearance? My fascination with Lohan began last September when, much to my surprise, the troubled starlet rose like a phoenix from a sunken booth at the Boom Boom Room and released a glass, ice included, in my general direction. Ever since, LiLo's relationship with her celebrity status has kept me completely captivated, so when I heard that Phillips' night would coincide with New York Fashion Week, I knew I had to go. The bleach-blonde starlet would be the white whale of my Fashion Week.
About an hour into the opening, LiLo's First Point surfing body double Kassia Meador appears in the crowd at the gallery, cheeks sunburned from a morning in Montauk. Surrounded by Phillips' enormous, sexed-up paintings of Adriana Lima, Sasha Grey, and yes, Lindsay, she describes working with Lohan as "super rad." Those moments on film when Lindsay appears to be slow-dancing on the nose of a moving surfboard? That was Kassia, who says Lindsay tried her hand at surfing, too. "She got into a couple waves and got up and everything." Kassia says we should meet up later at the after-party. She doesn't say, with Lindsay Lohan, but, you know.
It is close to midnight when I arrive at No. 8 (you may know it as Bungalow) for Phillips' party. LiLo is probably curling her eyelashes in a dimly lit hotel mirror right now. Two unmarked Mercedes wait on the street, and a crowd is smushed against the venue's door, waiting to get in. I am ushered inside with my friend Hannah, who works in the art world and is "surprised Lindsay is still relevant." When I tell her some see LiLo as our generation's Edie Sedgwick, she says this is "artist bullshit," then suggests we go check out Ed Westwick's booth. His presence makes me feel optimistic; his shirt gaping open a good distance down his rib cage, he looks like he, too, could be waiting for Lindsay Lohan. The music is crowd-pleasing and crazily loud: the Beegees, David Bowie, and the Talking Heads. Hannah and I ascend to a small balcony that overlooks the bar, dance floor, and booths. Every time someone approaches the stairs, a security guard flashes a little blue light, I guess because actually installing lights over the stairs would be tacky. Every time, I look down to see if the flashing is Morse code for LiLo rising.
The young photographer Michael Avedon, grandson of Richard, has been shooting all week for Carine Roitfeld. When I ask, he concedes that Lindsay "does look beautiful" in Phillips' videos, but he doesn't seem to care whether she shows up tonight. Have any celebrities left an impression on him this week? Artist Maurizio Cattelan backstage at Rodarte, he says. Richard Phillips arrives at his party in a motorcycle jacket, Rachel Feinstein and John Currin by his side. I'm tempted to ask Phillips whether LiLo is coming, but it seems rude since this party is for him, so instead I just congratulate him. Shortly thereafter, a girl in short shorts and a fedora arrives at the party, seemingly just to mess with me. 
Suddenly, I realize Cynthia Rowley is conspicuously absent from this party. I have a flashback to the gallery opening that afternoon. I was talking to Rowley's husband, Bill Powers, when his cell phone rang. Cynthia was running late for the opening. Maybe something about a fitting? I had assumed she was late preparing for her show on Thursday, but recalling how Lindsay nearly caused a riot at last year's Rowley show, I wonder if Cynthia is with Lindsay.
A man with a curly wire extending from his ear into the collar of his shirt speaks into his shoulder. A few minutes later, he reappears with a large silver Champagne bucket in his hand. "He's not Secret Service," I say to Hannah. "No, he's bottle service," she replies.
The crowd is thinning, but a booth near the dance floor — near where Ed Westwick was exposing his chest — has been cleared. Did they clear it for a VIP, running late because she is on west coast time? To test this theory, we must sit in the booth. If we're swept aside, it's because someone important is coming. It's so awkward, sitting in this choice booth directly next to the dance floor, waiting to be thrown out. But we're not thrown out. We sway a little, listening to the music and watching an over-served gentleman cradling a bottle of Grey Goose like a baby and then using it to perform an air-guitar solo. The woman dancing with him tries to sexily remove his blazer, but he won't let go of the bottle. It's time to go home.