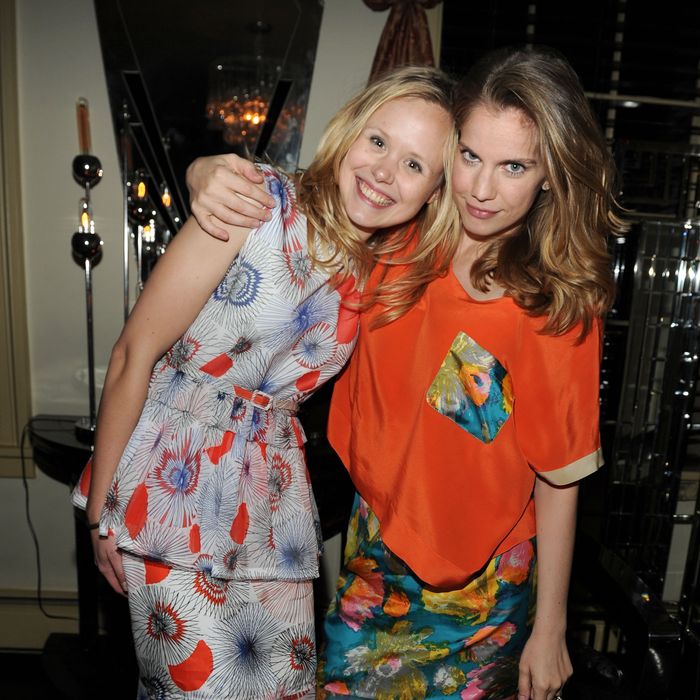 Who would have guessed that Alison Pill and Anna Chlumsky, the quirky-cute child stars of Confessions of a Teenage Drama Queen and My Girl, respectively, would grow up to be the most fun women at Fashion Week?
Pill had already endeared herself to sexting novices everywhere yesterday when she accidentally tweeted a picture of herself wearing big nerdy glasses and nothing covering her boobs. "Yep. That picture happened," she wrote. "My tech issues have now reached new heights, apparently. How a deletion turned into a tweet … Apologies." It was so cute I don't even care if she did it on purpose for attention! 
Now "Page Six" reports that Pill and Chlumsky — who now play harried girl Friday types on HBO's The Newsroom and Veep, respectively — were a real hit at Chris Benz's party Monday. Pill was "falling down drunk," "yelling and telling everyone she was 'farting' every time she moved." Chlumsky, meanwhile, "calmly lit, then extinguished, a cigarette she had stashed in her handbag for intermittent use." 
It really does suck to go all the way outside when you just want one drag!
As for Pill, the Post says, "Anna was like, 'Oh, she's fine,' " and I'm liable to believe that she was, with friends like Chlumsky.