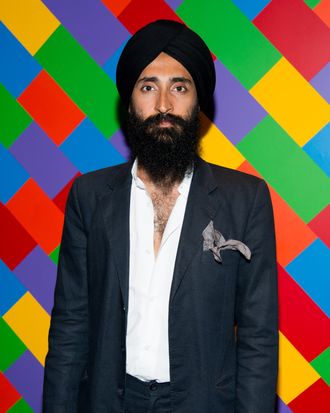 "Actor, designer, [and] explorer at large" Waris Ahluwalia debuts today as an advice columnist for Style.com, dealing with the "knottier questions of twenty-first-century life" as the website's editors see it (what to do when the wallpaper in your Hamptons summer rental's walk-in clashes with your luggage, for example, and so on). His first set of feedback concerns existential fashion week crises sent from people who, judging by the nature of their queries, should know better — or at least have more Xanax at hand.
In response to a query about skipping a friend's fashion week party for other, higher profile, events:
"Let's qualify the friendship — is this person a real friend or a fashion friend? If it's the former, then no amount of excuses could cover up the betrayal. If the latter, I'm less concerned — crosstown traffic is always a good standby."
And then advising someone struggling through Fashion Week with far less invites at hand:
"Why must you go somewhere you have not been invited? No one party is the be-all and end-all. As my friend Cynthia Rowley says, it's all cumulative. Life will go on. Plan for next season and be invited — work hard, pay your dues, and sleep with the right publicists/designers/editors."
In conclusion: Screw your friends; screw them over. Either works, apparently. It's probably worth downloading Cosmo's sex-position-of-the-day app.